Cubs News: Offense is running out of time to figure it out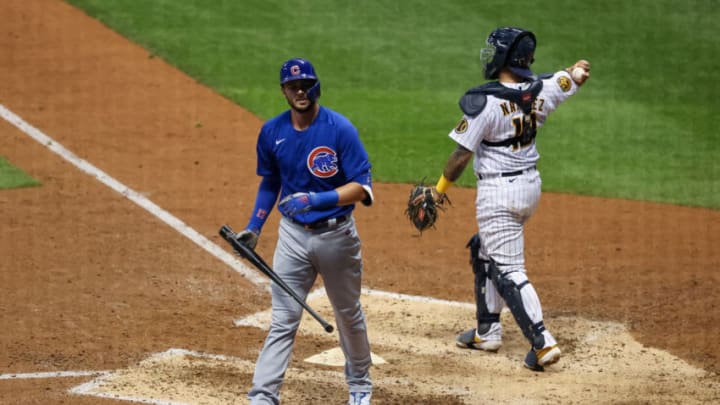 Kris Bryant, Chicago Cubs (Photo by Dylan Buell/Getty Images) /
Several key Chicago Cubs hitters need to figure it out — and fast if they want to succeed in the playoffs.
With eight games to go in this 2020 season, the Chicago Cubs still have a reasonably comfortable 4 1/2 game lead in the NL Central and have a magic number of four to clinch a playoff berth. Yet there's still plenty of reason to be concerned, particularly about the Cubs' offense and how several key players have underperformed over not-so-small sample size.
The offense was again nowhere to be found during Saturday night's 8-1 loss to the Minnesota Twins. The team managed just five hits — three of them from Jason Heyward — after a three-hit performance in the team's 1-0 win over Minnesota on Friday night.
On a team that is supposed to be full of offensive stars, this continues a troubling trend. Except for Jason Heyward and Ian Happ, most of the rest of the regulars have woefully underperformed at the plate this year overall. Though Willson Contreras has come on strong of late, Happ has been struggling lately as well.
More from Cubbies Crib
Of all the regulars, only Heyward, Happ, and Jason Kipnis (if we consider him a regular) have an OPS higher than .751 through 52 of the 60 regular-season games. Anthony Rizzo, Kris Bryant, Javier Baez, Kyle Schwarber, and David Bote will all enter play on Sunday with a batting average of .211 or under. It's impressive that the team sits ten games over .500 with those kinds of numbers; perhaps David Ross will win Manager of the Year, having figured out how to guide this team to the postseason.
Whatever formula the offense has used to put together enough wins to likely capture the NL Central title might not work in the postseason against stiffer competition. As the team marches towards the postseason, getting all these key hitters on track — and fast — has to be among the team's top priorities. Otherwise, it won't matter much how good Yu Darvish, Kyle Hendricks, or Jon Lester are in a short series.
This team has the talent to make a deep run into October this year. Yet the pressure is on Anthony Iapoce and the offense to get things straightened out soon. What the big names on offense can do moving forward will determine how far this team can go.