Cubs are a postseason lock, so where's the optimism with fans?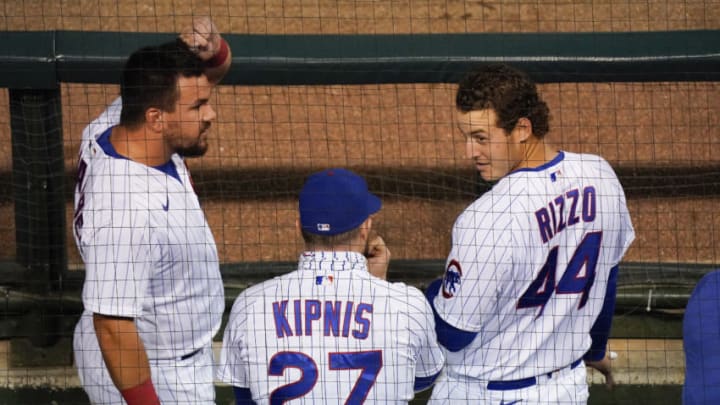 Cubs players Kyle Schwarber, Jason Kipnis and Anthony Rizzo talk during a recent game at Wrigley Field. (Photo by Nuccio DiNuzzo/Getty Images) /
Winners of four straight, the Cubs are ready to return to the postseason in 2020.
Like everything else this year, the 2020 Cubs have been a bit of a roller coaster. David Ross' club tore out of the gates to the tune of a 13-3 start, then seemed to barely keep their head above water for basically a month. Now, after running off four consecutive high-drama wins, Chicago has its eye set on another NL Central title.
Clearly, expectations have changed at the Friendly Confines. Since the team made an improbable and unexpected run deep into October in 2015, Joe Maddon and Jon Lester's first year in the Windy City, winning has become the norm.
More from Cubbies Crib
Since 1969, the Cubs have won their respective division just seven times – the last coming in 2017. Entering action Friday, Fangraphs pegs their chances at adding another division title in 2020 at a staggering 98.9 percent. Folks, this is a big deal – yet nobody is talking about this team.
Sure, there's been more buzz of late. I mean, how could there not be with Jason Heyward taking Josh Hader deep, Alec Mills throwing a no-hitter and the club following those wins up with back-to-back walk-offs? But for whatever reason, a lot of people aren't taking the Cubs seriously as a postseason contender.
There's a very clear divide between a team like the Cubs and, for example, the Dodgers. Both clubs are talented but Los Angeles is, up and down, a better put-together club. They went out this spring and added Mookie Betts, then locked him up long-term, in hopes of his being the missing piece to the puzzle for an organization that hasn't won a World Series since 1988.
Meanwhile, Chicago brought in the likes of Jason Kipnis, Josh Phegley, Steven Souza and a group of buy-low arms in hopes of rounding out a pitching staff that had (and still has) some major holes. To say the two teams approached the offseason differently is putting things mildly.
The results speak for themselves. The Dodgers enter baseball with an MLB-leading +108 run differential and a 2.98 team ERA. The Cubs open their weekend series against Minnesota at +31 with a 3.98 ERA – respectable numbers, to be sure, but a far cry from dominant.
But with less than two weeks until the postseason begins, we have to step back and acknowledge what Ross and his squad have accomplished. Despite their holes and several underperforming stars on the roster, the Cubs are poised to win their division and head into October as the two-seed in the Senior Circuit.
Once the calendar flips to October and the ivy starts to turn at Wrigley? Anything can happen. They're close to checking that first box and punching their ticket. Once you're in? All bets are off.