Chicago Cubs News: What's happening with Kyle Schwarber?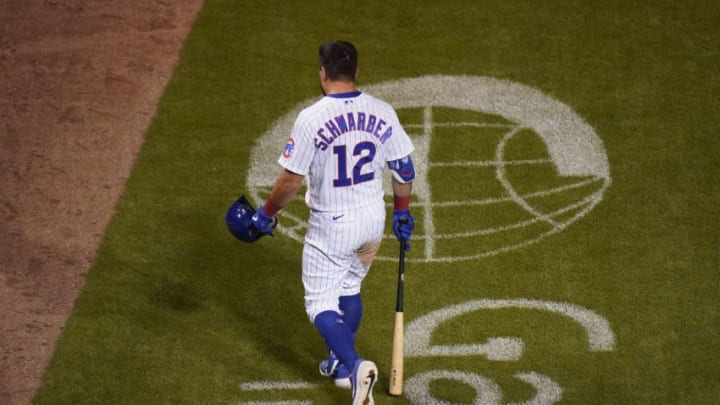 Photo by Nuccio DiNuzzo/Getty Images /
Chicago Cubs' outfielder Kyle Schwarber was one of the best hitters in baseball in the second half of the 2019 season.
The Chicago Cubs' Kyle Schwarber clubbed 20 homers after the All-Star break and had a 151 wRC+, per FanGraphs. He was incredibly dominant for the Cubs in the final two months, slashing .304/.394/.649 with 14 homers and a 163 wRC+.
It seemed as though Schwarber's monstrous second half might serve as a precursor to bigger things in 2020.
More from Cubbies Crib
Indeed, Schwarber had an excellent August after a slow start in July, slashing .236/.340/.539 with eight homers. The Cubs desperately needed his production, too, as Javier Baez and Anthony Rizzo began to scuffle.
But things turned sour for Schwarber as the calendar turned to September, even as the Cubs have strung some wins together.
The 27-year-old has had a hard time getting anything going in the last two weeks, entering Friday's game against the Minnesota Twins with a paltry .287 OPS in his previous 13 games. He has struck out in nearly 30 percent of his 47 plate appearances, with just two hits–both singles–in those appearances.
Schwarber's struggles are somewhat puzzling. He ranks in just the ninth percentile in strikeout rate, but the 36th percentage in whiff rate, per Baseball Savant.
Granted, ranking in the 36th percentile is still below average, but the discrepancy between those numbers suggests Schwarber is taking more called strikes. Only, Schwarber's swing percentage is nearly identical to last season.
Then, there is the fact Schwarber still ranks in the 98th percentile in average exit velocity, 88th percentile in hard-hit rate and 82nd percentile in barrels. Again, the numbers would indicate he should be hitting above a .194 clip, especially considering his margin on batting average on balls in play is even higher than it was last season.
So, what gives?
Well, the strikeouts certainly have not helped Schwarber's cause. But he is also pounding the ball into the ground. Schwarber has a 49 percent ground ball rate, resulting in a 10.1-degree launch angle. That is over five degrees less than he had in 2019.
Schwarber still seems to be taking advantage of pitches down and in, per FanGraphs heat maps. However, he is having a much tougher time with balls on the outer third of the dish, which might explain the increase in both pull rate and ground ball rate.
The reality is, Kyle Schwarber is a line drive, fly ball kind of hitter. He is not going to have success if pitchers are keeping him on the ground.
Schwarber has the strength and bat speed to drive the ball into the opposite-field gap. He needs to show more resolve in going that way; otherwise, the ground ball trend seems likely to continue as opposing pitchers pound him away.
The Cubs are still hoping Baez, Rizzo and Kris Bryant can heat up throughout the final 10 games. But Schwarber is as crucial as any of those guys in terms of his ability to manufacture runs in the middle of the order.
Chicago would likely welcome a new approach from "Schwarbs," who needs to get it going heading into October.