Chicago Cubs News: Javier Baez being Javier Baez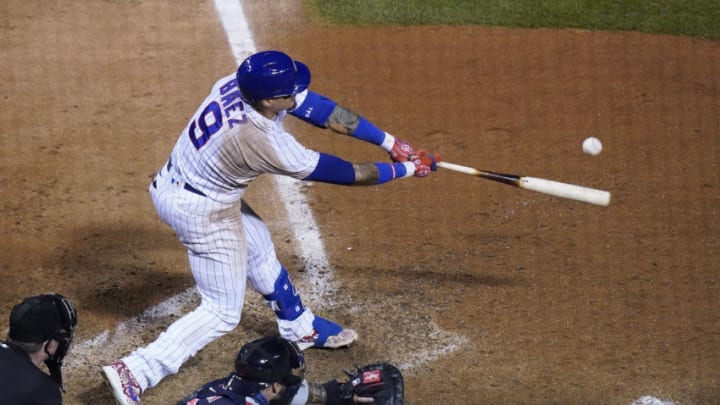 Cubs infielder Javier Baez is battling through the worst year of his career. (Photo by Nuccio DiNuzzo/Getty Images) /
The Chicago Cubs' Javier Baez is just doing what he does. The shortstop stole second and third, picked a runner off, and had the game-winning hit.
The Chicago Cubs' Javier Baez is a pleasure to watch. And Wednesday night, he was all over the field doing what he does. He ran, he fielded and he hit. But the way he did it was phenomenal. You don't believe me? Let me count the ways he was outstanding.
In the top of the fourth inning, Franmil Reyes came up with a one-out single off Jon Lester. Jordan Luplow lined a changeup to Baez, and it was over after that. Baez made the exchange in 0.53 seconds and uncorked a throw of 85.4 mph and Reyes was doubled up after that. Anthony Rizzo had some fine footwork and kept his foot on the bag to cap an inning-ending double play.
More from Cubbies Crib
""He affects the game in a positive way," Ross said. "His energy, his at-bats, his power, his glove." h/t Jordan Bastain, MLB.com"
On the basepaths, he was Javy being Javy. Francisco Lindor was headed for a 6-4-3 double play, but Yu Chang threw errantly to first, and Baez was off to the races. He made the turn from second to third and didn't look back. Well, he looked back–but only to see where the ball was at–he wasn't stopping.
""Once I get on base, the other teams worry about me a lot," Báez said. "They forget about plans. But I get on base and I just improvise.""
And the granddaddy of them all, the game-winning hit. But it wasn't easy for Baez. Two out and two strikes against him–it was just Baez being Baez.
Phil Maton struck out Willson Contreras and Kyle Schwarber and then went 0-2 on Baez. Maton threw a curveball that was low and outside, perfect for an 0-2 Baez to strike out swinging–but he didn't. He got to it and lined over Jose Ramirez's head for the game-winning hit. How's that for a slice of fried gold?
""It was actually a good pitch," Báez said. "I just got to it.""
That was the fourth-straight win by the Cubs, and 7-3 in their last 10 games. The Cincinnati Reds are 7-3, as well–but they're a game under .500. It should be smooth sailing from here–I hope.