Chicago Cubs: Undrafted signees show a lot of promise for the team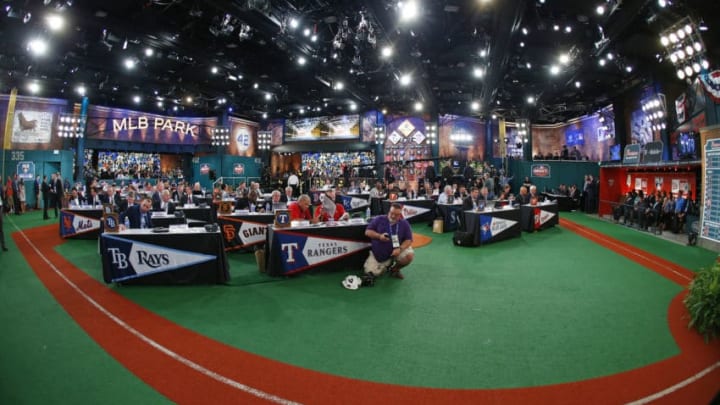 (Photo by Rich Schultz/Getty Images) /
While the Chicago Cubs did well in the draft, they also signed some exciting, undrafted players.
The Chicago Cubs made out pretty well in the 2020 draft, taking the hometown kid Ed Howard in the first round and adding lefty stud pitcher Luke Little, among others. Yet, for as bright as the future seems for the big draft pieces, some of the undrafted players they signed past the draft are absolute steals for the team. Per MLB Pipeline, two of their UDFA signings were among the top ten best in the MLB.
The first of which is two-way player Matt Mervis out of Duke, who writer Jim Callis rated as the fourth-best UDFA signing in the MLB. Mervis hit .304/.458/.589 in his last college season while also showcasing effective pitching with a 2.16 ERA in 2019. His versatility leaves the Cubs with a lot of options as to how to develop him going forward, and he certainly has an excellent lefty swing with decent pop.
The other is Bradlee Beesley, an outfielder who proved his skill in his last two years in the Cape Cod League. He's more of a contact speed threat, putting up a .368/.419/.529 line with the Yarmouth-Dennis Red Sox in his best year. While not as talented as Mervis, he still ranked tenth best of MLB UDFA signings, and adding Beesley gives the Cubs a potential future leadoff hitter.
All in all, the Cubs walked away with more than ten UDFAs, but what makes their haul so promising is the quality of the prospects they managed to walk away with. Of all MLB teams, only four (including the Cubs) came out with two or more undrafted prospects in the top 15 of MLB Pipeline's rankings. Even beyond Mervis and Beesley, a few of the candidates they picked up could develop well in their farm system.
Among their pool of new prospects are pitchers like Graham Lawson and Ben Leeper, who can each hit the mid to upper 90's in velocity and promising outfielder Jacob Wetzel, who mashed in high school and college. These are guys with real tools that the Cubs can work with going forward. No, these guys aren't immediate top prospects, but many of these guys I could reasonably see as making a difference on the big league roster in a few years.
If I had to pick one I'm most excited to see in a Chicago Cubs uniform, it's probably Mervis with his two-way potential, but I think the team did a great job with their signings all around. They got a group of guys with high upside and talent that can be improved upon in the minor leagues. Here's hoping we see some of them in the majors in the next few years.