Chicago Cubs: Ian Happ is the right choice for center field in 2020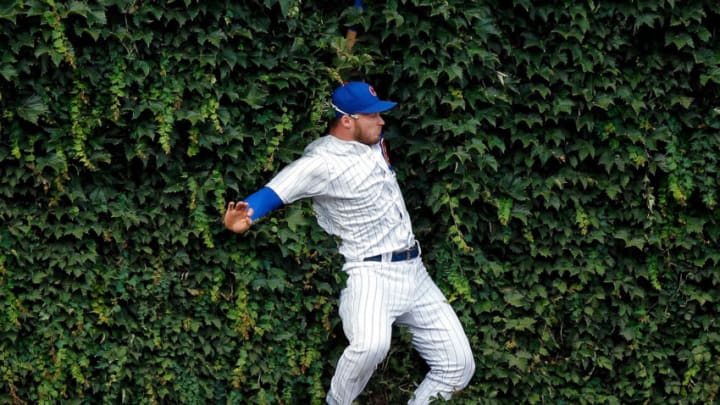 Ian Happ, Chicago Cubs (Photo by Jon Durr/Getty Images) /
Starting utilityman Ian Happ in center field should be a no brainer for the Chicago Cubs in 2020
With the worldwide crisis surrounding the COVID-19 outbreak, the sports world has come to a screeching halt. As for the world of Major League Baseball, the Chicago Cubs and spring training was suspended and the beginning of the regular season was postponed to a later date. When will the season begin? That is unknown at the moment, and if we are honest,' it's anyone's guess.
While there isn't a set date that baseball will start, the hope is that the 2020 season does eventually begin. There have been talks about canceling the season altogether, which probably won't happen, but again, anything that happens is anyone's guess. The Chicago Cubs and the rest of the MLB are assuming business as regularly as possible, and are ultimately looking to have a 2020 season.
Just as they did before the pandemic took over everyday life, the Cubs still have holes they need to fill in the Opening Day roster. One of the positions in question is center field. While Albert Almora Jr. and Ian Happ are both competing for this role, Ian Happ is the best man for the job. Happ, 25, was sent to Triple-A Iowa immediately following spring training in 2019 in efforts to improve strikeout rates that he struggled within 2018 as well.
More from Cubbies Crib
The increase in Happ's strikeout totals could be attributed to the fact that he missed pitches in the zone and struggled to make contact. However, this was something that Happ went on to work on down in Triple-A, Iowa, and it seems that he was successful. Not only did Happ end up dropping his strikeout rate from 36.1 percent in 2018 to 25 percent, but he also produced more offensively and was a more productive hitter.
To compare, in 2018, during his time with the Cubs, Happ slashed .233/353/.408, whereas in 2019, he slashed .264/.333/.564. Yes, he played fewer games in the majors in 2019, but Happ's time in the minors where he made tweaks to his mechanics was all the difference. Before spring training was suspended, Happ posted .481/.500/.851, and during the 2020 regular season, he is projected to post .252/.341/.486.
The 25-year old might still go through slumps, but if those can be lessened and he can learn from his mistakes, he should be just fine. Happ did a great job of learning and improving in Iowa, so that should not be problematic. It should also be noted that Happ is also a switch hitter, and not only can he play centerfield, but he can play other positions around the diamond.
Someone so versatile would be a very valuable commodity to an uncertain ballclub like the 2020 Cubs. Hopefully, the 2020 season will be underway as soon as possible, and we will see the likes at Ian Happ in center.