Chicago Cubs: Kris Bryant ready for a big second half performance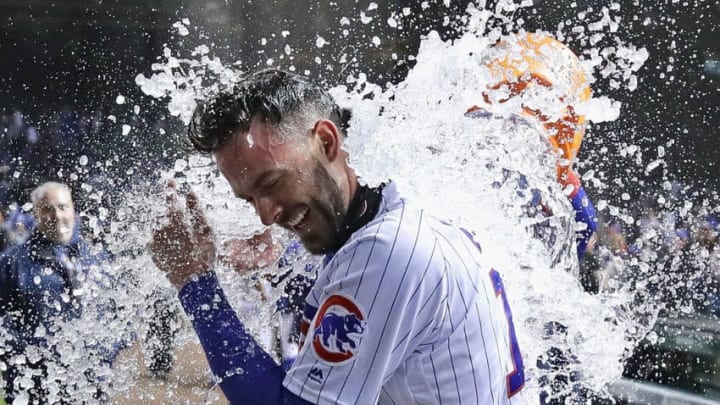 (Photo by Jonathan Daniel/Getty Images) /
Chicago Cubs superstar Kris Bryant is back to playing at MVP-caliber levels and the scary thing is there's still room for improvement in the second half.
It's not hard to make the case that Kris Bryant has been the best Chicago Cubs player since he joined the big league team back in 2015. He kicked things off by winning NL Rookie of the Year. Then, he won National League MVP honors in 2016 – oh, and he helped the Cubs win their first championship in 108 years.
Nothing like some lofty expectations to live up to moving forward, right?
More from Cubbies Crib
In all of his years, he has just seemed to get better and better. Bryant's strikeout numbers were high in his rookie year. He was striking out 30.6 percent of the time.
That became a huge focus for the budding star during the offseason. After the 2016 season, his strikeout rate went down to 22 percent – a huge difference in just one year. These numbers have continued to drop in the subsequent campaigns.
In 2018, the now-three-time All-Star experienced his first real hardships in his pro career – an injury-plagued season that prompted many to question his abilities.
It started with him getting hit in the head in Colorado. Then he hurt his shoulder with a headfirst slide in Cincinnati. When he finally came back after missing an extended amount of time he just wasn't the same. His power numbers were way down and the strikeouts were on the rise. Anyone that has watched Bryant play every day for these four years knew that he was a much better player than he showed in 2018.
So, coming into the 2019 season the former first-rounder really set out to prove last season was a fluke. Many people before the season called this a "revenge season" for Bryant. I know personally, I was very excited to see what he was going to do coming into this season after what transpired last year.
Bryant has been really good so far in 2019. Entering play Saturday, Bryant is batting .297 with 18 long balls and 45 runs batted in. These numbers were good enough net him a spot on the Senior Circuit's All-Star team last week in Cleveland.
With how good Bryant has been so far during this season you would not know if you listen to some people talk and if you read Twitter. He seems to take so much criticism for plays he doesn't make or not cashing in with runners in scoring positions.
I've heard the idea of trading Bryant tossed around casually and that, to me, is crazy. Now I understand that he gave himself some big expectations for his first few years in the big leagues but I feel like people are hyper-critical of the slugger because of how much he's already accomplished.
All this being said, Bryant is poised to have a huge second half of the year. He has been recently moved to the three-hole in the lineup which I think will help him greatly, giving him more opportunities to drive in runs.
Hitting with men on (he carries a .232 average in these situations) has likely been his biggest weakness this year. But given how he finished the first half and kicked off this weekend at Wrigley Field, Bryant looks ready to lead this offense and continue his superstar ways.