Chicago Cubs: Recalling the best Javier Báez move of 2018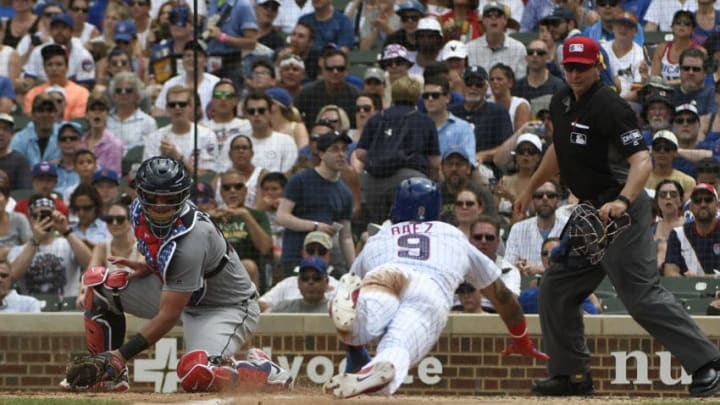 (Photo by David Banks/Getty Images) /
National League MVP runner-up Javier Baez stole the Chicago Cubs show at Wrigley Field this year. Here's his best moment of a highlight-reel campaign.
The Fourth of July is a fun time in the Windy City. Chicago Cubs fans will often catch a patriotic game filled with Stars & Stripes and then jump on the train and head down to Navy Pier and watch the fireworks show over Lake Michigan.
This year's fireworks came early to Wrigley Field as the Cubs were down by one run to the Detroit Tigers with Baez on third base in the fourth inning.  Throughout the season, Baez, nicknamed "El Mago" or "The Magician" had been pulling tricks out of his hat and whispers of MVP guaranteed that fans tuned in for each and every play. Baez was probably one of the most watched players at that time (and for most of the year, as a whole).
Such was the case on the fourth of July in the Windy City as explained by Nate Poppen of NBC Chicago Sports Infinity Network:
"This game was a sort-of high-water mark for the 2018 season. The Cubs had just won six straight games, Willson Contreras was red-hot, David Bote hit his first homer and Brandon Morrow had just converted on his 19th save in 20 opportunities. Sadly, the other three stars of this particular game would fizzle out by the time October rolled around. But not Javy. His star burned bright all season long, and probably never brighter than on that sunny Independence Day afternoon at Wrigley Field."
More from Chicago Cubs News
Baez had some great moments during the inning especially when he escaped Tigers starting pitcher, Francisco Liriano at a pick-off attempt at first base by stealing second.
Tigers' first baseman John Hicks threw a wild ball that went into left field and left Baez enough room to get to third. It looked as though the Puerto Rican standout was considering heading home at that point since the errant throw had cast the Detroit team into chaos, who up until now had looked quite solid on the afternoon.
Addison Russell stepped up next for Chicago and drew a walk off Liriano. You could tell Liriano was now feeling the pressure with Baez and Russell on opposite corners.  The Tigers southpaw made an attempt to get one of his bases back and made a pick-off attempt to first base. This was the opening Baez was waiting for as he scrambled toward home plate.
Fans watching the play on television were almost jolted out of their seats as even the Cubs broadcasters were surprised by the move and quickly indicated to the audience that Baez was going for it. Fans could see the ball come in early and it looked like a fruitless attempt but El Mago kept his body behind the plate giving himself more separation from the tag and then used his "swim" technique to get the run.
""It never gets old watching him play baseball," Maddon told reporters after the game."
Baez continued to dazzle fans the rest of the season as he chased National League MVP honors till the season's final days. In August and September, Baez's OPS dropped 200 points and signaled that his run to the top was slowing down (very similar to the Cubs team).
Regardless of the outcome, Baez's running and offensive plays like the "swim" left their mark as some of the best of 2018.