Chicago Cubs News
Chicago Cubs News: Is the 'charm' being taken away from Wrigley Field?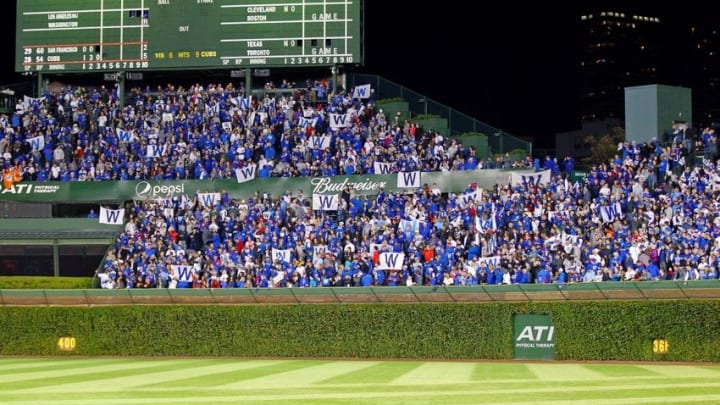 Oct 8, 2016; Chicago, IL, USA; Fans hold up "W" flags after the Chicago Cubs beat the San Francisco Giants in game two of the 2016 NLDS playoff baseball series at Wrigley Field. Mandatory Credit: Dennis Wierzbicki-USA TODAY Sports /
It's one of the oldest and well-known ballparks–and the home of the World Series Champion Chicago Cubs. But have all of the renovations and changes to the historic ballpark taken away from its charm?
For Chicago Cubs' fans, it took some getting used to. The two new jumbotrons had many people thinking that Wrigley Field had lost its way. But while it was a change, it was done in a way that didn't take away from what the ballpark has been to fans. But now they're moving the bullpens off of the field of play and underneath the bleachers? This is too far, right? We look at the changes they've made to Wrigley and ask just how much is too much.
You may have already seen the news, but printing tickets at home will be a thing of the past if you plan to go see the Cubs. While many fans won't mind as they like to have actual tickets, the MLB's Ballpark app will be the only other way to get in. This was a response to the increase of fraudulent tickets that sprang up–especially during the playoffs.
The Hall of Fame announced the newest class on Wednesday, adding three new names to the halls of Cooperstown. Tim Raines, Jeff Bagwell and Ivan Rodriguez all received the 75% of votes necessary. Trevor Hoffman came up just short, missing admittance to the hall by just 1%.
These and other stories you may have missed:
'It's time to leave Wrigley Field alone' – Cubbies Crib
'Cubs fans can no longer print tickets at home' – Cubbies Crib
'Raines, Bagwell and Rodriguez join the Hall of Fame' – ESPN
'Cubs looking for ringbearers' – Cubbies Crib
'The evolution of the leadoff hitter' – Call to the Pen
#Cubs on Twitter
Be sure to check back for more Cubs new throughout the day! Also, be sure to like us on Facebook and follow us on Twitter @CubbiesCrib!