Chicago Cubs Rumors: Craig Kimbrel could be on the move this summer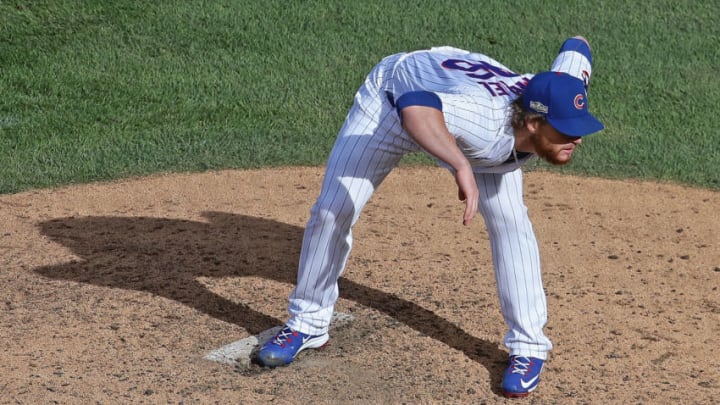 (Photo by Jonathan Daniel/Getty Images) /
(Photo by Jonathan Daniel/Getty Images) /
Chicago Cubs Rumors: This is their chance to thread the needle
The most obvious strength of this Chicago Cubs team is the bullpen. It's not just Kimbrel who's enjoying a strong performance so far this season. Veterans like Andrew Chafin and Ryan Tepera have been lights-out and we've seen more homegrown youth this season than in any season in recent memory.
Even guys like Dillon Maples have played key roles for David Ross, which is saying something because that's something we've been waiting for for what seems like years now. But back to Kimbrel. Why would the Cubs trade him when they enter this week's series in San Diego in first place? Because they have the depth to cushion the blow of the loss – and could improve down the road at the same time.
""The best way to do that (compete now with an eye on the future) would be to trade closer Craig Kimbrel," said Rogers. "That's one guy out of 26 who impacts games every few days. It would be a loss, but righty Ryan Tepera was just named reliever of the month in May; perhaps he could step up for a two-month run as closer. Either way, Kimbrel could bring back a few good prospects while the Cubs continue on their winning ways. Competing doesn't necessarily mean winning it all. The Cubs could definitely do both — even if they trade more than just Kimbrel.""
Trading someone like Bryant – a former first-rounder, Rookie of the Year and MVP who is one of the top five most valuable players in baseball right now – would not go over well with fans. That's putting it very mildly. But trading a mid-30s closer whose best days are, in all likelihood, behind him? That's a very different scenario and one that Jed Hoyer might find too good to pass up.