Cubs: Nico Hoerner is now a cornerstone piece for the franchise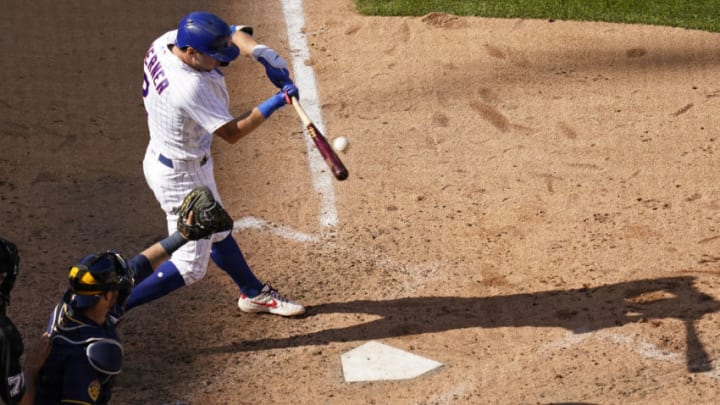 (Photo by Nuccio DiNuzzo/Getty Images) /
As far as performance and statistics go, I cannot say enough about Nico Hoerner. His numbers at the plate are great, tallying nine hits, two walks and 4 RBI in his last 25 at-bats. The insane batting average he gave the Cubs in the small sample size of spring training (.361) has proven to be no fluke, as he currently sits at .353 on the year. Pair that with a .433 OBP and .904 OPS and there's a lot to like here.
Hoerner had a great spring but was optioned to the alternate site simply because of the log jam of infielders the Cubs have, but mostly to get the extra year if he is sent to the minors for 36 days. For those who were confused as to why he did not make the team outright, at least in my eyes, that's why.
More from Cubbies Crib
The former first-rounder has been equally impressive with his glove. He's made some absolutely incredible plays that have saved runs and even games, specifically on Tuesday night against the Nationals. In a tight game with two men on, the Cubs infielder made a diving play on a hard-hit ball to throw out Starlin Castro at first. Second base is his true position but has given the Cubs some good innings over at shortstop as well, even dating back to last season in his limited time with the Cubs.
The 24-year-old was given everyday duties when the team's All-Star shortstop Javier Baez missed some time with an injury early on in the season. He made a strong enough impression that he got regular reps (and continues to get them) even with Baez at 100 percent and playing every day.
2021 free agency and the impact it will have on the Cubs
Here's what we know: Baez will join fellow infielders Kris Bryant and Anthony Rizzo in free agency this offseason.  All three are great players, played key roles on that legendary '16 World Series team and could be wearing different uniforms come Opening Day 2022.
We know Rizzo and the Cubs talked this spring, but things seemed to go off the rails shortly before the regular season kicked off. As for Bryant and Baez, we still have no idea if they're going to be in Chicago next season. Here's why that's important for Nico Hoerner.
No matter where these three end up, Hoerner has to be next in line. If it is Baez or Bryant, Hoerner has to fill their shoes in his own way. Similar to Steve Young taking over for Joe Montana or Kawhi Leonard emerging as the star player for the San Antonio Spurs is 2014, Hoerner will have the chance to become the face of the franchise.
This kid is ready to answer that call and become the club's most critical building block looking toward the future. The former Stanford Cardinal is only 24 years old and showing a lot of promise already – let's hope it's just a sign of what's to come from the standout infielder.