Chicago Cubs Rumors
Cubs made one of their biggest mistakes ever in the Craig Kimbrel signing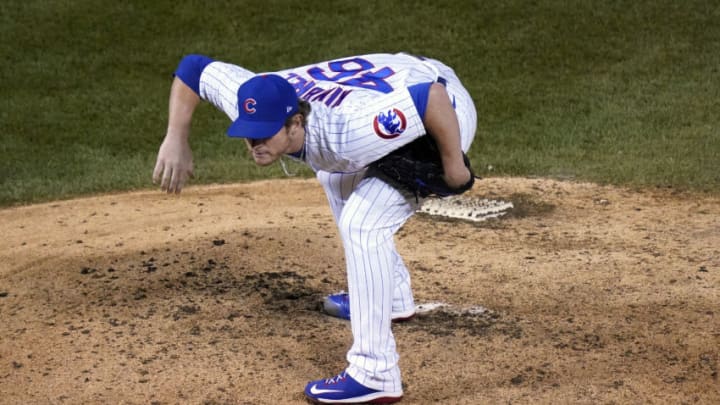 (Photo by Nuccio DiNuzzo/Getty Images) /
Craig Kimbrel was supposed to fix the Chicago Cubs bullpen. That was the case in 2019, again in 2020 and – here we are, in 2021, at this point just desperately hoping for some value in the final year of his three-year contract.
To say Kimbrel has struggled is putting things mildly. He's been a mere shadow of his former self and opposing hitters have torched him almost since the first time he donned the blue and white.
After a quiet 2019 offseason, the Cubs made a big splash by signing the storied closer to a three-year deal worth $43 million, including a fourth-year option. However, Kimbrel ended up not living up to his potential. Kimbrel went from his seventh All-Star season in 2018 with the Red Sox to a shaky and injury-plagued 2019 season. In 2019, Kimbrel posted a 6.53 ERA across 20 2/3 innings pitched.
More from Cubbies Crib
In 2020, Kimbrel began the 60-game abbreviated season as the Cubs closer despite his shoddy 2019. However, he did not hold the role for long. After being demoted from the closer role, which Jeremy Jeffress primarily took over, Kimbrel worked on his mechanical issues. As the season progressed, Kimbrel's work earned him the closer title back.
In mid-August, Kimbrel began to see positive results. He ended up having five straight solid outings without giving up a hit. By the end of the season, not only did Kimbrel make strides, but the entire Chicago Cubs bullpen shaped up. In the month of September, the team's relievers combined for the second-best ERA, behind the Tampa Bay Rays in the entire league posting a 2.96 ERA.
In his last outing of last season, Kimbrel completed his comeback and had a solid outing. The 32-year old showed signs of promise for 2021. Over the course of the offseason, Cubs manager David Ross made it clear: the ninth inning would belong to Kimbrel again this year.
But then he's come out and laid an egg in spring training, getting absolutely torched (7 H, 9 ER, 2.2 IP) in a trio of outings. If he doesn't turn this around before the end of Cactus League action, can Chicago really trust him in the ninth inning this year?
Was the Chicago Cubs signing of Craig Kimbrel a bust?
Unlike in 2020, the team does not have Jeremy Jeffress to lean on should Kimbrel falter. As a result, if Craig Kimbrel can't get the job done this year, the Cubs will need to look at their other relievers and see who is a fit for the job. Looking at Kimbrel's tenure as a whole, it could be argued that his signing is one of the worst in Cubs history.
Not only did Kimbrel fail to live up to expectations, but he provided false hope at the end of the 2020 season. Over the course of his entire career, he has put together a borderline Hall of Fame campaign. However, this quest for Cooperstown has gone downhill precipitously during the veteran's time in Chicago. If he doesn't get it together in 2021, he'll go down as one of the worst moves the Cubs have made for quite some time.