Chicago Cubs: Fans at Wrigley Field on Opening Day?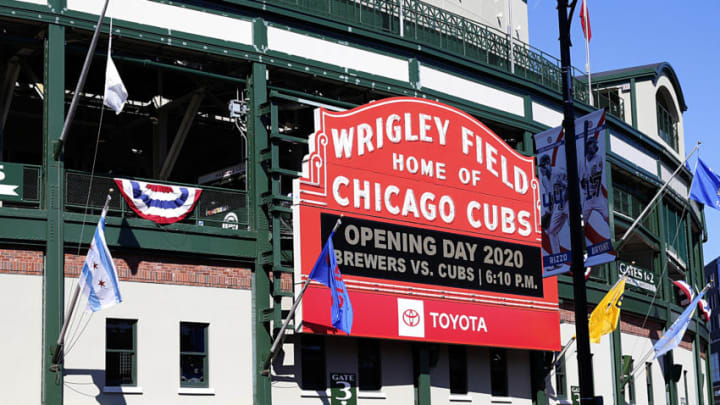 (Photo by Justin Casterline/Getty Images) /
Ignoring the themes of religion, life, and death for the moment given what's going on in the world, one of my favorite poetic baseball-y quote is from the Alexander Pope An Essay on Man. That quote, with which most of you are familiar, is about how "hope springs eternal in the human breast."
Seeing as we're on the precipice of a new spring, a new Cubs baseball season and possibly a brave new world where COVID-19 is contained, beaten back or inoculated against, I'll say that there seems to be an awful lot of hope floating around the beginning of this 2021 baseball season.
More from Chicago Cubs News
And, just like that, there's more reason to feel eternally spring-y and hopeful as sources have indicated to ESPN1000's David Kaplan that it is possible that fans will be allowed at Wrigley Field and that other Insurance Park place on the South Side for Opening Day.
Wouldn't that be something? I mean, that would be a shot in the arm (pun intended) for not just the people able to go and be fanatic, but also the players, the organization, the neighborhood, and probably even the people of greater Chicago.
Cubs fans back at Wrigley? I can't wait.
Getting people back in the real seats inside the stadium rather than just across the street on the rooftops would be a sight for sore eyes, a boon for the club financially, as well as create a bit more buzz and excitement following an inconsistent and frustrating offseason.
It would also be a great indicator that things are getting better for all Americans in regards to this Covid pandemic, something that we all need at this point. If getting to go to a ballgame could ever truly symbolize hope springing eternal, this would be the year. And, in the city of Chicago, an urban center that has been hit hard by the pandemic, it would be a godsend.
So, let's hope the Kapman's sources are correct and that some Cubs fans are able to get comfy in the Friendly Confines on April 1. After all, Pope's next couple lines about man's soul being "confin'd from home and resting" are all too prophetic here and could use some blessing and hope of a baseball season to come.