Cubs are seeing special things in this pitching staff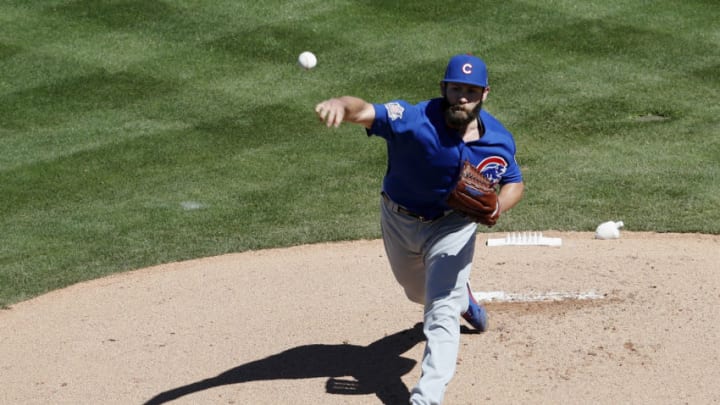 (Photo by Tim Warner/Getty Images) /
For the Chicago Cubs to pull off back-to-back division titles, a lot of things will have to go right. With a roster on the brink of major turnover and a pitching staff that feels mixed and matched, there are a lot of questions when it comes to the team.
But after the first few days of workouts in Mesa, manager David Ross is loving what he's seeing from his pitching staff. There are familiar faces, including ace Kyle Hendricks and Jake Arrieta, who returned to the team this winter, and some that are less so – like young right-hander Adbert Alzolay and Trevor Williams.
More from Cubbies Crib
Alzolay has fewer than 30 big league innings under his belt with the Cubs, while Williams signed with Chicago in free agency this offseason – so they may be unfamiliar to casual fans, albeit for different reasons. But proven veterans like Arrieta are doing their part to help guys like Alzolay find their footing in camp.
""What veterans do that?" Ross said of Arrieta working one-on-one with Alzolay. "We had some of that last year. That talks to the connection of what these guys have, how they're interacting, what kind of people we have, really, that the stars and guys with real hardware are helping out young and upcoming pitchers.""
Chicago brought back Arrieta after seeing their budget increase after Jon Lester signed a deal with the Nationals. He's not the pitcher he was five years ago – but he's known for his bulldog mentality and tenacity both on the mound and in his workouts.
Cubs: Jake Arrieta, other veterans are playing their role perfectly
The Cubs are hoping some of that rubs off on the unproven arms in camp. Arrieta brings a lot of valuable experience to the mix. He knows what it's like to be counted out. After all, he was down-and-out with Baltimore prior to coming to Chicago. Then, he became a Cy Young winner. That's a message that you can sell to teammates looking to establish or re-establish themselves in 2021.
""There's a lot of great conversations going on between veterans and young players, a lot of great questions," Ross said. "[It] seems like a very connected group between this pitching core right now. Really early on, that is very refreshing and encouraging about how they're communicating and helping each other out. It's pretty impressive.""
So let's hope this collaborative effort continues as camp continues and position players report. It'll take all hands on deck to pull off a successful season – and so far, the Cubs are on the right track.