Cubs History: The Triple Crown winner who remains in Chicago lore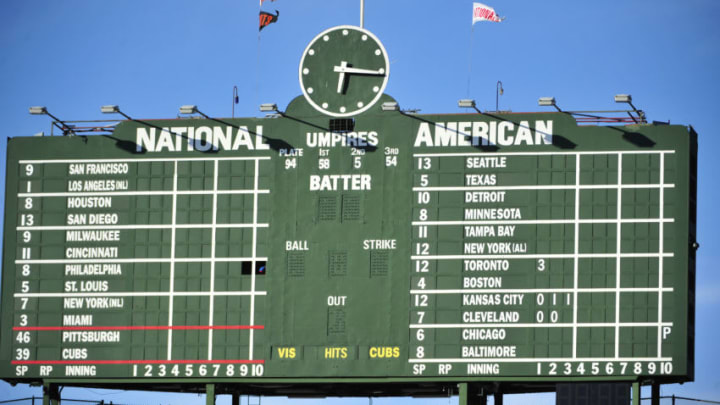 (Photo by David Banks/Getty Images) /
The beginning of the 1900s was a rip-roaring time in American history. Many historical and world-shaping events took place, and baseball was in the thick of it all. Among the drive to further the notion of baseball's consideration as the 'National Pastime,' teams embraced the game's continuity leading to more competition.
In 1912, led by emboldened hard-body Frank Chance, the Chicago Cubs were two years removed from a World Series appearance in which Chance and his boys were bested by the Philadelphia Athletics and fellow Hall of Famer Connie Mack. Off the jowls of defeat, and pretty convincingly at that, there was not a lot of hope for Chance. His luck was about to change.
More from Cubbies Crib
Historical baseball records seem to forget a lot of players in terms of promoting their careers. A lot of guys will slip through the cracks. In Chicago, Heinie Zimmerman is one of those players. Zimmerman joined the Cubs in 1907 and enjoyed a decade-long career in Chicago. He slashed a career .295/.331/.419 in 1,456 games and, in 1912, put his stamp in the record books.
Cubs: From an average hitter to a superstar in one season
Zimmerman slashed .293/.324/.412 in the five years leading up to the 1912 season. Before the argument breaks out, too, how a guy who just almost clipped a .300 average, remember what baseball was like during this point in the cog. Guys were landing north of .300 every year.
Everything then changed for Zimmerman and the league. If you gather Zimmerman's player profile from Baseball-Reference, it will tell you he finished sixth in the National League MVP vote. It will also teach you about an unsung performance, one which earned Zimmerman the Triple Crown.
If you're not familiar, the Triple Crown is regarded highly in many circles and encompasses batting average, home runs and runs batted in. That season, despite finishing behind a consortium of albeit talented yet lesser producing cohorts in the MVP vote, Zimmerman succeeded in completing the feat.
Following the Cubs' regular third baseman Jimmy Doyle's shocking death due to appendicitis, Zimmerman was given a reprieve from Chance. The 25-year-old took advantage by slashing a fantastical .372/.418/.571, 14 home runs, 104 RBI, and a .989 OPS. In terms of what OPS+ constitutes in the metric relative to the early-1900's, Zimmerman's season was great enough for a 170 OPS+.
Coincidentally, the Pittsburgh Pirates' jack-of-all-trades superstar Honus Wagner was nearing the end of a long successful career. That year Wagner and Zimmerman finished with the difference of a single at-bat and, oddly enough, were hit by the same amount of pitches. Wagner is important to note as disputed evidence from The Baseball Encyclopedia via the Society for American Baseball Research gave Wagner a higher RBI total. Elsewhere says different as Baseball-Reference is tried and true to their capacity favoring Zimmerman.
After the genuinely unbelievable season he put together, Zimmerman did not have astounding post-award brevity to stay on a path of greatness. He continuously butted heads with management no matter the circumstance, and by 1915 production began to drop off. In 1916 the Cubs traded Zimmerman to the New York Giants for second baseman Larry Doyle, who had won the MVP during the 1912 season.
Years later, Zimmerman would be effectually banned from baseball due to his involvement in attempting to throw games while with the Giants. He ultimately fell into obscurity and passed away in 1969. However, for one season, Zimmerman put his name in the record books with a performance to remember.