Cubs News: A heartfelt, somber farewell to Yu Darvish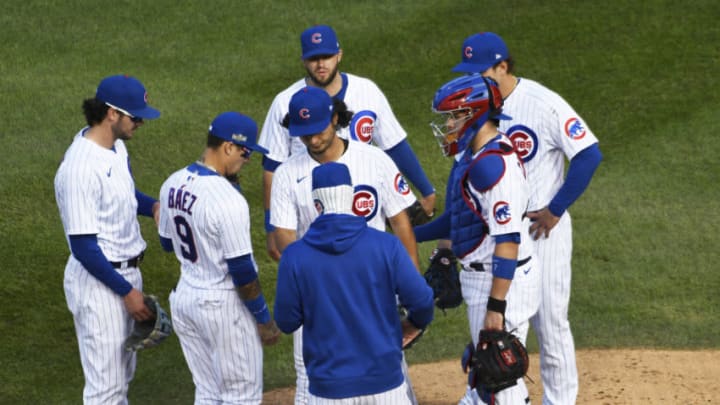 Yu Darvish - Mandatory Credit: David Banks-USA TODAY Sports /
Yu Darvish didn't spend much time with the Cubs, but he left a mark on this city.
When the Chicago Cubs originally acquired Yu Darvish, I was excited. I always admired him from afar as one of the most interesting and talented players to come over from Japan and that includes players like Ichiro Suzuki and Shohei Ohtani. I remember him demolishing the Cubs in the 2017 NLCS against the Dodgers and wishing Theo Epstein would bring him into the fold that offseason.
Needless to say, things didn't go quite as planned.
More from Cubbies Crib
Darvish's first season was an injury-riddled disaster. He was coming off a nightmarish performance against a Houston team powered by trash can banging in the World Series and it showed. It was disheartening to see him as a shell of his former self and then constantly be teased by reports that he could be back in the rotation soon, only for each to inevitably be shot down by setback after setback. I always held out hope though. He was too good for this to be a reality. We couldn't have given up on Jake Arrieta for this.
2019 was more of the same at first. He just couldn't get it together and it was getting frustrating. The second half of the season flipped the script though and Darvish became like a machine, limiting his walks and finally resembling the pitcher I'd admired in Texas and Los Angeles. He had reinvented himself yet again. Despite the disappointment and the ever-closing championship window, Darvish gave me something worth looking forward to. I thought there was no way he wasn't winning a Cy Young in 2020.
Though he ultimately lost out to Trevor Bauer, Darvish was incredible in 2020. A 2.01 ERA with a league-leading 2.23 FIP cemented him as the Cubs' ace. Yet, it was his personality that made him so great. For as absolutely dominant as he was on the mound, he was just as funny on social media. From calling Houston's trophy a trash can to trolling Justin Verlander and telling one Twitter troll to "eat fried chicken until death," his brand of comedy was endearing.
I give all this background because it's important to understanding how Darvish grew on Cubs fans and on me, even as someone who already appreciated him. It was so hard to watch at first yet somehow, in only one and a half years, he not only completely changed his reputation in Chicago but became one of the team's most memorable players, even nearing Arrieta who preceded him. He was just so easy to like and seeing him come up in the starting rotation guaranteed it was going to be a must-watch game.
I hate the business of baseball. The Cubs moving Darvish for essentially a salary dump reeks of a fire sale, not a rebuild or a retool, but that's for a different piece altogether. It's a somber end to a short-lived Cubs legend that really should have been longer. Thanks for everything Yu, and good luck in San Diego. At least you'll still have Victor Caratini with you.