Cubs are better off trading Kris Bryant at next year's trade deadline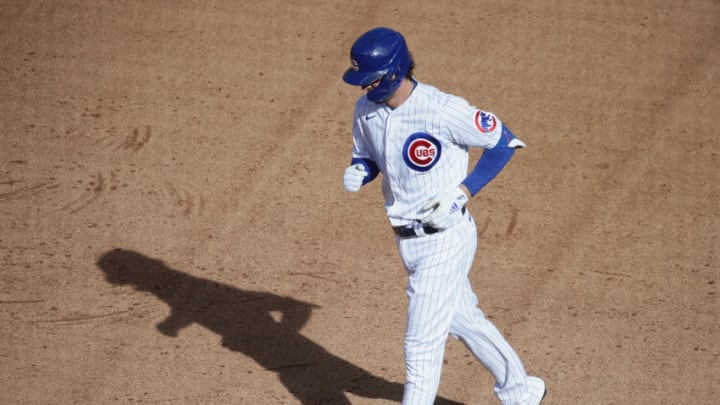 Photo by Jonathan Daniel/Getty Images /
The Cubs would be well-served in trying to trade Kris Bryant next summer.
The Chicago Cubs appear to be backed into a bit of a corner when it comes to former National League MVP Kris Bryant.
Bryant is coming off the worst season of his career. He hit .206 with a .644 OPS and also ranked below the 20th percentile in average exit velocity, hard-hit rate and xwOBA, per Baseball Savant. The former No. 2 overall pick also dealt with more injuries, and durability has looked like an issue in the last three seasons.
More from Cubbies Crib
But the most inhibitive part of Bryant's trade value might be his salary. The 28-year-old is estimated to make $18.6 million in arbitration. Not many teams would be willing to part with top assets for that kind of salary, given both the financial constraints teams are facing as well as Bryant's lack of production in 2020.
Bryant's agent, the notorious Scott Boras, hinted last week his client would likely remain with the team in 2021, right after Washington Nationals general manager brushed aside reports the Cubs and Nats had discussed Bryant. It appears increasingly likely the Las Vegas native will be back on the North Side of Chicago next year.
However, this could be a big plus for the Cubs, with Bryant having the chance to rebuild his value.
There is no doubting Bryant is one of the more talented hitters in the league when he is right. He is also a tremendously underrated baserunner. Some Cub fans are probably sick of hearing about this by now, but it is still worth pointing out Bryant ranked third in fWAR between 2015 and 2019, per FanGraphs.
So, if Bryant bounces back early in 2021, it stands to reason he can significantly boost his value on the open market ahead of the trade deadline. It could be a win-win for the Cubs.
If Chicago is on the fringes but Bryant is having a tremendous season, they could probably sell higher on him at the deadline than they otherwise could right now.
Yes, KB will only have half a season before he heads to free agency. But teams in search of a third baseman later this summer – possibly the Atlanta Braves, Toronto Blue Jays or Nationals, depending on how the rest of the offseason plays out – could be willing a steeper price if they are confident Bryant has regained All-Star form and can be signed in the offseason.
There is also the fact interested teams would have to pay less than half of Bryant's salary if he is moved in August. He could be worth at least a top prospect or two, which seems to be a better return than the Cubs can do currently.
Then, there is the alternative situation where the Cubs are contending at the deadline thanks no small part to Bryant and others having resurgent seasons. In that case, Chicago will simply have more confidence he is the kind of player it wants to sign to a long-term deal.
Finally, if Bryant struggles… well, it might not mean much given his limited value at present. The Cubs would take the payroll hit for 2020, which would be tough, but could look to move on and spend money on other players next winter.