Cubs News: One way or another, the Cubs have to bring back Jon Lester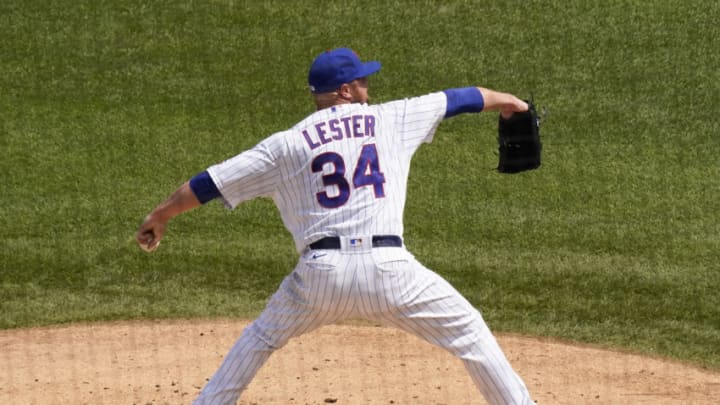 (Photo by Nuccio DiNuzzo/Getty Images) /
It doesn't matter his role. The Chicago Cubs need Jon Lester back in 2021.
Hear me out. The Chicago Cubs need Jon Lester. They really do. He's not a number one starter – but that doesn't matter. He can be a number five, for all I care. Heck, put him in the bullpen. The one thing I do know is they need his pedigree and leadership. He turns 37 on January 7 and he's in the twilight of his career. Still, that career and the accomplishments it includes speaks volumes.
In the first three games in 2020, he was good. Damn good. He came out of his third start with a 1.06 ERA, allowing an opponents OBP of just .197 across 17 innings of work. From there? Definitely not as pretty. A 6.75 ERA with a slash of .310/.359/.543 in 44 innings – hardly what you look for from your veteran leader. Two quality starts in nine outings isn't going to cut it. Period.
More from Chicago Cubs News
Ever since he came to Chicago back in 2015, Lester has represented a sort of quiet leadership and there are few players in the game more demanding of themselves than the big lefty. That's something a team like the Cubs will need next season, in a year where major pieces of the roster could be on the move.
To date, Lester's first big league team, the Boston Red Sox, have not reached out to him, but they might. We know the Cubs balked on his $25 million option for 2021 – and with good reason. That number isn't anywhere close to his market value at this point in his career. They shelled out a $10 million buyout, content with seeing how things played out on the open market.
I see Lester to be a guy getting more in that $4-6 million range this winter. Now, we don't know if he'll be up for returning to a team that, like I said, could see some major changes not just this offseason, but ahead of next year's trade deadline – but I can see the team making it work financially.
We know Jed Hoyer is keeping tabs on the three-time World Series champion. The sides haven't talked yet, but they should because at the end of the day, Chicago badly needs Lester's presence – regardless of what role he plays.