Cubs News: John Baker joins the Pittsburgh Pirates as farm director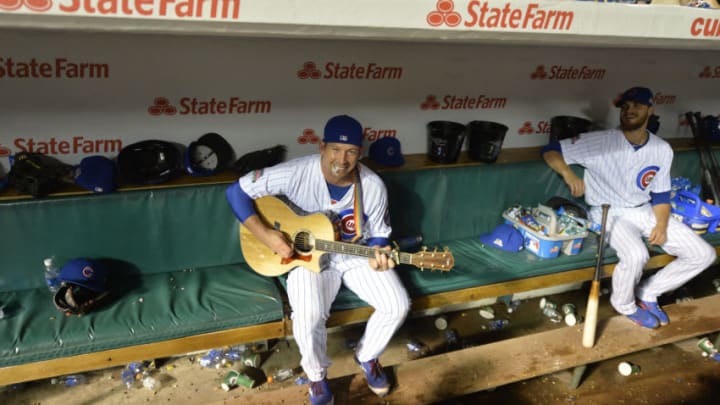 John Baker - (Photo by Brian D. Kersey/Getty Images) /
Cubs mental skills coach John Baker has taken a role with the Pittsburgh Pirates.
The Chicago Cubs got some 'sad' news today – but it was far from tragic. Fan favorite John Baker, 39, got a job with the Pittsburgh Pirates as the organization's farm director. Baker had been serving as Chicago's the mental skills coach, and a damn fine one, too.
Of course, the Bucs are run by none other than former Red Sox executive Ben Cherington. Cubs president of baseball operations Theo Epstein and GM Jed Hoyer are obviously familiar with him from their days in Boston. 
More from Cubbies Crib
Baker's big league playing career lasted just seven years – and his rookie campaign was, by far, his best. He hit .299 with five home runs and 32 RBI – culminating in a 119 OPS+. From there, though, it was all downhill as his numbers fell off annually until his final year in The Show in 2014. Cubs fans undoubtedly remember that season for 'John Baker Day' on 7/29/14.
In that contest, the backup catcher became the first position player in franchise history to win a game as a pitcher. He came on in the top of the 16th inning to turn in a scoreless frame when the team had no one else to turn to. After coming off the mound, the unthinkable happened. He wound up scoring the winning run in the ballgame, etching his name into Cubs lore forever.
For a week or so, we'd heard rumors connecting Baker to the Pirates job – and, now we know why. Pittsburgh has high hopes as they continue their rebuild. Baker's taking one of the highest positions within the organization. Who knows, if he can help develop a recipe for long-term success, he could wind up garnering more attention down the road.
Last year, the Cubs went with an unproven – albeit highly regarded – manager in David Ross. You could say the Pirates are taking a similar approach here with Baker. He checks a lot of boxes, but probably isn't the most prototypical candidate for such a role. One might have expected a longtime scout or someone in that vein. Still, it's a perfect match – even though he's leaving for the Pirates -so, kudos to Baker.
In unrelated news,  Bob Tewksbury has been let go as of October, part of a '100+ employees layoff' by the organization. Tewksbury earned a master's degree from Boston University in 2014. He was an All-Star in 1992 for the St. Louis Cardinals and he pitched for the Cubs in 1987 and 1988.
In the end, that's not great news. Tewksbury and Baker, plus the 100+ employees that were let go? The Cubs are running the organization on a bare bones budget. We can only hope the on-field product doesn't suffer because of it.