Cubs History: Remembering some strange moments at Wrigley Field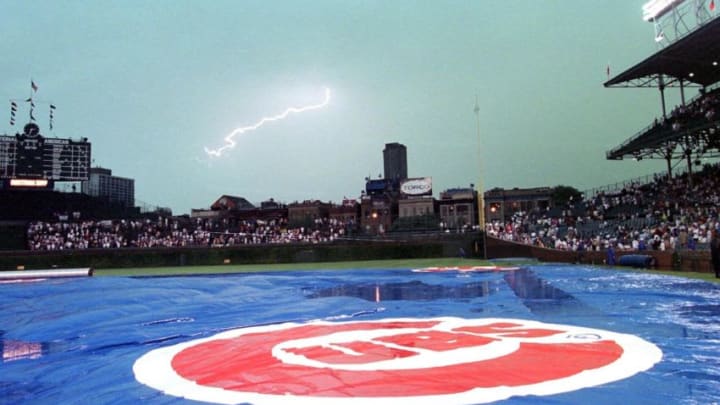 A tarp covers the field as rain and lightening delay the Houston Astros game against the Chicago Cubs at Wrigley Field 24 August in Chicago, IL. Despite the delay the Astros defeated the Cubs Chicago Cubs (Photo by DANIEL LIPPITT/AFP via Getty Images) /
(Photo by David Banks/Getty Images) /
Chicago Cubs: Hard to imagine a better metaphor for the 2010 Cubs than not having any power.
On May 26th, 2010, the Cubs hosted the Dodgers at Wrigley Field. Tom Gorzelanny was on the mound for the Cubs pitching in the top of the 4th. Just as he delivered ball four to the batter, poof, the stadium lost power, and the entire ballpark went completely dark.
The complete darkness lasted a second or two before the digital boards, and grandstand light fixtures in the upper deck came back on. 5-8 lightbulbs total of the stadium lights came back before they slowly started to come back. There was a solid minute or so of the ballpark being mostly lit by camera flashes by fans in the crowd.
Finally, the power came back, and play resumed. There have been a few other times lights have gone out, but this time, in particular, we saw the power in the entire stadium go out. Cubs would lose this game 8-5.
Those are just a few odd occurrences that have taken place in recent years at Wrigley Field during Cubs games. It will be interesting to see what is in store for the future in the category of strange things.