Cubs History: Remembering some strange moments at Wrigley Field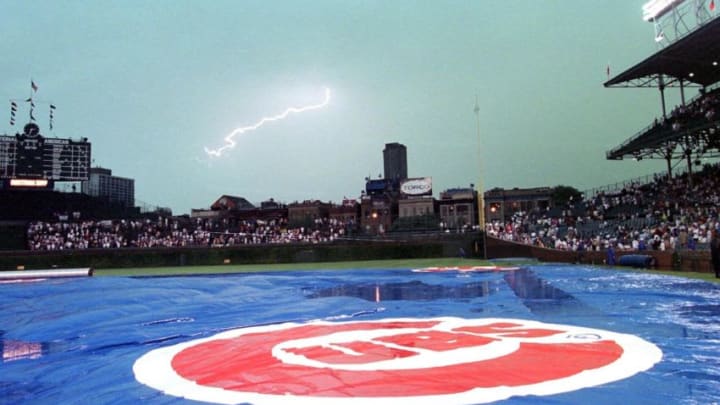 A tarp covers the field as rain and lightening delay the Houston Astros game against the Chicago Cubs at Wrigley Field 24 August in Chicago, IL. Despite the delay the Astros defeated the Cubs Chicago Cubs (Photo by DANIEL LIPPITT/AFP via Getty Images) /
(Photo by David Banks/Getty Images) /
Chicago Cubs: In August 2008, one of the most violent storms in years hit the Chicagoland area.
Rain delays are certainly not a rare occurrence at Wrigley Field, but it is not often fans have to seek shelter as tornado sirens go off.
On August 4th, 2008, the Cubs hosted the Houston Astros. The game started on time (6:05 PM local) and played through the fifth inning. As the game was happening, a line of violent thunderstorms came from the west and headed straight for the city.
More from Cubbies Crib
The storms arrived, and the game was delayed at approximately 7:39 as it began to downpour. As the rain fell, the winds picked up, and the lightning flashed so brightly it looked like the apocalypse. Fans taking cover under the upper and lower decks' roof were then forced to take cover as a tornado warning was issued in the Chicagoland area, and the sirens went off.
Fans tried to cram in the flooding concourse, which turned into violent wind tunnels. In some areas, the spectators tried to keep the spirits up in a scary situation by singing "Take me out to the ballgame" and "Let's go Cubbies" chants as the wind howled and sirens wailed. This first delay lasted nearly three hours before finally resuming play.
After a few innings of play, the game was delayed again as lightning returned and struck the area, scaring the pants off Astros first baseman Lance Berkman. The game was finally called, and the Cubs fell to the Astros 2-0.
Not the most famous rain delay in Cubs history, obviously, but a memorably wild one for sure.