Cubs Rumors: A reunion with Jake Arrieta doesn't make any sense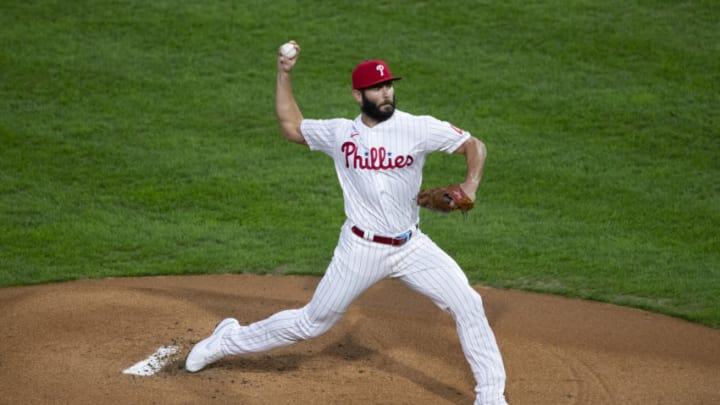 Chicago Cubs, Jake Arrieta (Photo by Mitchell Leff/Getty Images) /
Bringing back soon-to-be free agent Jake Arrieta doesn't make any sense for the Chicago Cubs.
The Chicago Cubs will likely need to add to their starting pitching before the 2021 season if they want to contend again. Kyle Hendricks and Yu Darvish are locked in as the front two starters, with Alec Mills likely having earned a chance at a spot and Adbert Alzolay likely to get a long look as well.
There will be a lot of clamoring for Jon Lester to be back, too, though it would certainly be a much smaller deal than he got before 2015. Whether Lester returns or not, the team will likely be in the market to add someone from the free-agent pool. And a lot of Cubs fans will notice that Jake Arrieta is set to be on that list.
However, a reunion with the stalwart from the 2015-2017 glory days isn't going to make much sense for this organization.
More from Cubbies Crib
In case Cubs fans hadn't noticed, Arrieta was a big disappointment in Philadelphia with the Phillies over the past three years. While he wasn't bad in 2018, posting a 3.96 ERA in 31 starts, that ERA went up to 4.64 in 24 starts in 2019, and the ERA went up again to 5.08 this past season in nine starts. Further, each of the last two seasons has been cut short due to injury.
In Philadelphia, Arrieta has been a poster child for the disappointment their team has been overall for the past couple of seasons. He's still beloved on the north side of Chicago for his contributions there, but even the most adoring Cubs fans have to admit that Arrieta is well past his prime.
Further, since he's only 35 and has a track record of success, Arrieta could still be looking for a multi-year contract that will probably put him out of the Cubs' price range, given how stingy they were with their money last offseason and figure to be again this coming offseason.
Look, I appreciate as much as anyone what Jake Arrieta did for the Cubs organization. Yet we can't get too nostalgic and expect the team to pursue him this offseason when it doesn't make much sense. Those hoping he'll come back are likely to be disappointed; however, in this case, it's best that we leave the past in the past and not to pursue or expect any kind of reunion in 2021.