Chicago Cubs need to give Craig Kimbrel the ninth inning
Heading into the postseason, the Cubs have no choice but turn to Craig Kimbrel.
While Jeremy Jeffress has been the savior of the Cubs bullpen in 2020, it's now time to hand the reins back over to the guy who's been closing out games for the past decade at an elite level.
On the surface, a guy with a 4-1 record, 1.69 ERA, and eight saves in 50 games is doing a lot of things right. And, not that the bar is very high, but Jeffress has been the most important offseason addition to the club in the last two seasons. When Craig Kimbrel was "rusty" and couldn't hit the broad side of a barn the first few outings of the 2020 season, Jeffress was not only there to clean up his mess, he was there to pick up the slack while Kimbrel figured things out.
Now that Kimbrel has worked out his kinks and returned to an elite level, making batters whiff at an extraordinary rate (16.71 K/9) comparable to his prime years, it's time to pass the torch back to the guy signed to be, well, the guy. Not only has Kimbrel worked out his issues, but it's getting close to postseason time and Jeffress appears to be scuffling a bit.
Kimbrel finding and commanding his 98 MPH fastball and nasty hook while working his way back through various leveraged situations is a sight for sore eyes at the moment, and David Ross needs to install him back into the closer role. Since August 14, across 11 1/3 innings of work, Kimbrel has 24 punchouts, 7 walks, a .108 opponent batting average and a 1.59 ERA. Better yet, since the calendar turned to September, he hasn't given up a run. If Ross doesn't want to talk about the "closer role" or label anyone, as he's done all season, that's fine – Kimbrel just needs to be out there to lock games down.
In addition to Kimbrel regaining his stuff and command, Jeffress has been trending the other way despite some lucky escapes. Since that same August 14, Jeffress has posted a 1.59 ERA, which is phenomenal. However, he's walked 11 against just 10 strikeouts, blown two saves, and lost another game. He also sports a 4.36 FIP that gives a truer understanding of just how felicitous his year has been. Jeffress is absolutely going to be a huge piece to the end-of-game puzzle in the postseason, but Kimbrel's ability to overpower hitters and get whiffs will play even better in October.
Adding to that late-inning puzzle is the fact that Rowan Wick just landed on the IL with an oblique strain that could end his season, meaning either way you slice it, Kimbrel and Jeffress are going to be leaned on heavily down the stretch and into the playoffs. Knowing this, it's time for Ross to start setting the pecking order in the last week of the season with Jeffress as the setup man in the 8th and Kimbrel in the 9th.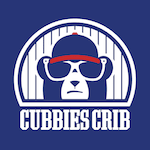 Jeffress has been a godsend in the pen, especially early on when just about everyone was struggling, but he doesn't have to carry the freight anymore and Kimbrel definitely looks poised for heavy lifting when the lights shine bright in a little over a week.