Chicago Cubs Preview: An early look at potential first round opponents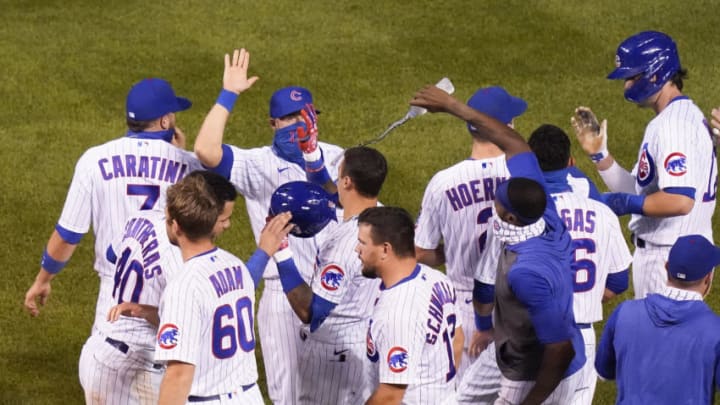 (Photo by Nuccio DiNuzzo/Getty Images) /
(Photo by Thearon W. Henderson/Getty Images) /
The San Francisco Giants have shocked the baseball world by putting themselves in a playoff position.
As it currently stands, the San Francisco Giants now hold the top Wild Card spot and are the #7 seed in the National League. No, that is not a typo, you read it correctly.
Somehow in this strange 2020 season, the Giants made things a little weirder by playing themselves into the postseason conversation. They still have 11 games to play (18 percent of the season), but if something were to end at this very moment, they would be matched up against the Chicago Cubs.
I've said it a few times in this article, but when I write about the Giants in the playoffs, I want to reiterate the idea of not counting the chickens before they hatch. I say this because their 11 games will be played in 10 days, with their opponents being the Oakland A's (31-19) and San Diego Padres (32-19), who will be pushing for higher seeding.
Their other opponent will be the Colorado Rockies (22-27), who could be fighting for their playoff lives.  Still, they have gotten this far, so we have to give the Giants some respect.
More from Chicago Cubs News
This certainly is not the same team as those who won three World Series titles in the last decade. Manager Bruce Bochy is retired, Madison Bumgarner is playing for Arizona, and Buster Posey opted-out.
The team still has veterans Brandon Crawford (.277 BA .799 OPS 5 HR 19 RBI) and Brandon Belt (.300 BA .987 OPS 8 HR 24 RBI) who are playing well this season. Combine that with another vet in Evan Longoria (.288 BA .792 OPS 6 HR 26 RBI) and some other solid position players like Donovan Solano (.342 BA .889 OPS 3 HR 28 RBI), and all of a sudden, they quietly have a top-10 offense in all of baseball.
Giants Offensive Ranks:
Batting Average: .269 (3rd-MLB)
OPS: .791 (7th-MLB)
Runs: 251 (10th-MLB)
So why is it they might not even make the playoffs with an offense this good? You guessed it–pitching.
As a group, Giants pitchers hold the tenth worst combined ERA in baseball–4.74. If they manage to hang onto a playoff spot, here are the three pitchers they will likely send to the mound:
RHP Johnny Cueto (2-1) 4.78 ERA 52.2 IP 48 H 48 SO 22 BB
RHP Kevin Gausman (3-2) 4.05 ERA 46.2 IP 41 H 62 SO 12 BB
LHP Tyler Anderson (2-3) 5.06 ERA 48 IP 49 H 33 SO 18 IP
First-year manager Gabe Kapler has a scrappy group, but without good starting pitching, that will only get you so far come playoff time.
It certainly would not be a cake-walk for the Cubs in the first round, I'm not sure any opponent would be, but one would like to think they hold a decisive advantage in both starting pitching and bullpen over the Giants.
There would be no excuses for a poor offensive performance against San Francisco in the first round.