Chicago Cubs News: The best 'addition' would be Craig Kimbrel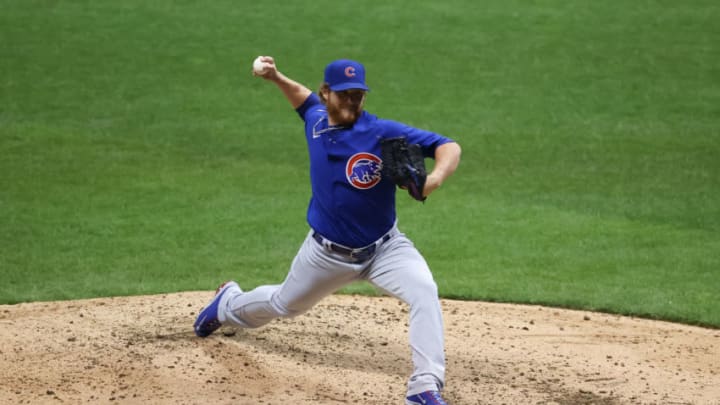 Craig Kimbrel (Photo by Dylan Buell/Getty Images) /
The Chicago Cubs' best' addition' would be Craig Kimbrel. True story. He's been lights out in his last five outings and would be the perfect setup man for Jeremy Jeffress.
If he's 'back,' the Chicago Cubs' Craig Kimbrel would desperately need to close or be the setup man when Jeremy Jeffress isn't available. And he's been on fire the last five games. He's allowed three hits and a slash of .176 (BA, SLG, OBP) and an OPS of .353. The BAbip (batting average on balls in play) is pretty high with a .375 average–but he doesn't allow anyone to score.
He hasn't given up a run in 10 of his last 11 appearances, and to be honest? The Cincinnati Reds game was a 'fluke.' He gave up three walks in 2/3 innings and gave up two runs while striking out two. Remember, it's the only game he gave up a run in the last 11. I'm just saying.
More from Cubbies Crib
"''It's huge," right-hander Jeremy Jeffress said. "Craig is somebody I've idolized from back in his days in Boston, San Diego and Atlanta. To see him get back to that is fun to watch. We're throwing partners, so every day we're critiquing each other. We're making sure our mechanics are right to get back to where we need to be." h/t Russell Dorsey, Chicago Sun-Times"
And Jeffress could be the factor in this. The Cubs' Jeffress and Kimbrel are making sure their logistics are right. Kimbrel was rough–at best. But he's found a way to improve it, and he's looking like the 'closer' they thought they'd have.
Over the last 12 games–plus the playoffs–Kimbrel needs to be on point if they have a chance. They SHOULD take the NL Central. But if the wheels fall off–and that's a big if–they will likely finish second in the division.
And kudos to Alec Mills on his no-hitter. Job well done. Also, Mills' five strikeouts were the fewest in a Cubs no-hitter since Ken Holtzman in 1969.
""I'm just proud to be that person that can tell you to never give up," Mills said. "Never stop playing. Never let people tell you what you can and can't do and just keep persevering.""
It was the 16th no-hitter thrown by the Cubs, joined by Jake Arrieta, Carlos Zambrano, Holtzman and more.