Cubs News: Team knows it's now or never to get it figured out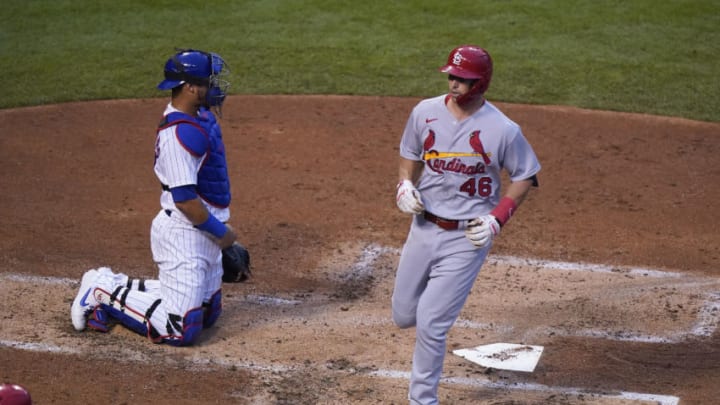 The Cubs have seen their lead shrink to just 1 1/2 games this weekend. (Photo by Nuccio DiNuzzo/Getty Images) /
The Cubs are still in first place. That won't last long unless recent trends change.
Watching the Chicago Cubs of late is interesting, to say the least. They're still in first place and, even after dropping three straight to the rival Cardinals, carry postseason odds pushing 95 percent. But, man, the fanbase seems to be growing more despondent by the day.
Undoubtedly, the shortcomings of 2018 and 2019 are sticking out in everybody's minds. Now, last September's collapse under former manager Joe Maddon is rearing its end for his successor, David Ross. He's working with a club that didn't make any notable offseason moves – and largely shopped the bargain bin ahead of last month's deadline.
More from Cubbies Crib
""It's better to be in first than in second, for sure," Ross told MLB.com. "We've just got to get better each and every day. If we can take that mindset, it doesn't really matter to me that you win the division right now in this playoff format, or you come in second."
At 23-18, Chicago still boasts the fourth-highest winning percentage in the National League. Of course, that's largely due to the team's scorching start that put the league on notice early on. But the Cubs haven't looked like a legitimate contender in some time – for a myriad of reasons.
""No one here will say we're clicking on all cylinders or playing our best baseball," Jason Kipnis said. "I think it's a sign of a good team to at least tread water in first place. Not many people can say they're doing that. So we're hoping our best baseball is in front of us. We've got some time to figure it out — the good start's afforded us that luxury.""
During their torrid start, I opined the Cubs offense was unsustainably high-performing due to their reliance on slugging. This team just hasn't shown the ability to manufacture runs and have been historically poor with the bases loaded. 
Guys like Javier Baez, Willson Contreras, Kyle Schwarber, Kris Bryant and Anthony Rizzo haven't put up their typical numbers. It's hard to think about where the Cubs might find themselves if not for strong showings from Ian Happ and Jason Heyward, the latter of whom was hospitalized on Sunday night and whose status is uncertain Monday morning.
Everyone on the pitching staff not named Yu Darvish is struggling, the bullpen is a question mark and Ross is in the unenviable position of trying to push the right buttons and pull the right levers with this group. It's a delicate balancing act – and the season could go either way at any moment from here on out.
""And obviously it has to do with some injuries on the pitching staff. And obviously it has to do with we can get better in the bullpen, and we can get better on the bases, and we can get better on defense, and we've got to hit better. There's so many things that we have to improve on.""