Cubs Preview: Series against Cardinals could determine division winner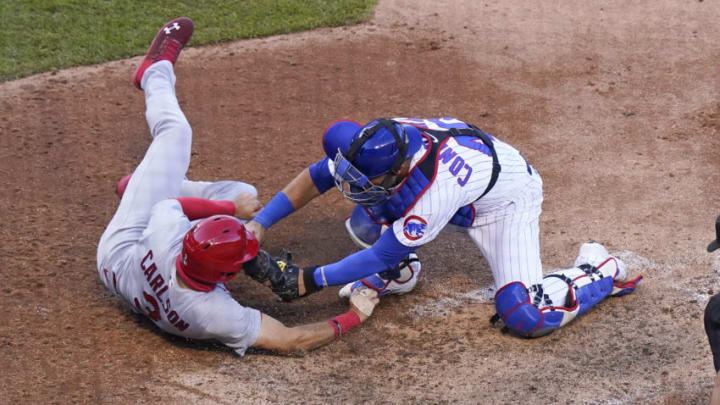 (Photo by Nuccio DiNuzzo/Getty Images) /
This weekend's series against the Cardinals gives the Cubs a chance to possibly put them away for good, and some payback from the end of last season.
A rivalry as old as time, it does not get any better than the Chicago Cubs and St. Louis Cardinals facing off–especially when the stakes are high. This weekend the two foes meet for a five-game series at Wrigley Field. The Cubs (22-15) currently have a 3 1/2 game lead over the second-place Cardinals (14-14) and could put some serious distance between their division rival with 23 games left to play.
St. Louis comes into Friday night's match-up having lost two of three games in a series against the Reds, and are losers of six of their last ten contests overall. The Cardinals have yet to hit their stride, partially thanks to an early-season trip to the casino, which postponed about two weeks worth of games due to players and staff members testing positive for COVID-19.
One member of the team that will not be playing in this weekend's series is outfielder Dexter Fowler. The former Cub was placed on the 10-day IL due to an ongoing stomach ailment.
More from Chicago Cubs News
The Cubs will likely be down an outfielder of their own after Ian Happ fouled a ball off his eye in Sunday's 6-2 loss to the Pirates. Manager David Ross says x-rays came back negative, leaving Happ with a contusion over his right eye.
It is arguably the most critical series of the season, and the Cubs will be sending their best to the mound later tonight in Yu Darvish (6-1 1.47 ERA). The CY-Young candidate has allowed a combined four earned runs in his last six outings, including a win over the Cardinals on August 18 (6 IP 8 H 1 ER 1 BB 7 K). Darvish has come up big for the North Siders all year, especially his last two starts where he tossed a few gems after they had disappointing losses in the previous games. This is the kind of ace-stuff the team will need to get off to a good start against St. Louis.
His opponent is no slouch either in right-hander Jack Flaherty (2-0 1.93 ERA). Those numbers are a small sample size as he has only pitched 18 innings in his four starts this season, but the young hurler has found success so far in his career against the team (3-2 2.79 ERA in 11 games).
These two teams met earlier this season in another five-game series which included two doubleheaders between Aug 17-19.
Previous meetings this season:
August 17 GM 1: Cardinals 3, Cubs 1
GM 2:  Cubs 5, Cardinals
August 4 18: Cubs 6, Cardinals
August 3 19 GM 1: Cardinals 9, Cubs 3
GM 2: Cubs 4, Cardinals 2
Most fans might remember, and like myself try to forget–the four-game series at Wrigley Field at the end of last season. The Cardinals held a three-game division lead and won all four of those games by one run each to complete the sweep, essentially knocking them out of the playoff picture.
Now is the perfect chance to return the favor. The team has been struggling of late, playing .500 baseball, but perhaps this kind of playoff-type of series could jump-start the team down the stretch.
If there was ever a chance for this 2020 team to make a statement to the rest of the league, the time is now.