The Chicago Cubs are not going to get overshadowed by the Sox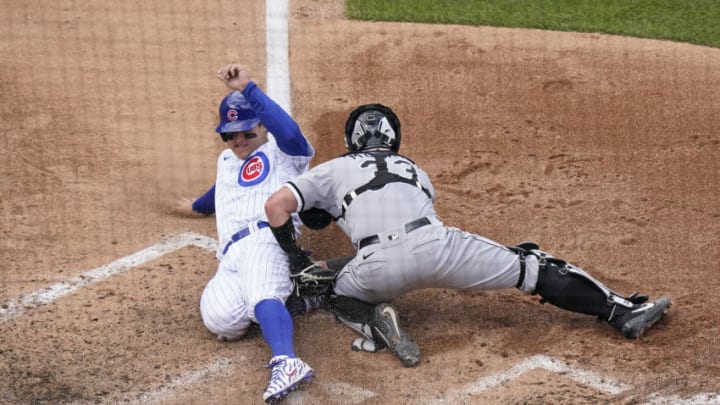 Anthony Rizzo (Photo by Nuccio DiNuzzo/Getty Images) /
The Cubs aren't going to be eclipsed by the White Sox. Now matched? That's a different story in itself.
The Chicago Cubs aren't going to be overshadowed by the White Sox. They've got the young talent to stick with the Sox, but matched? I can see that. The Cubs won 2-1 in the finale, but they've got outscored to 18 to 7 in the three games at Wrigley Field. We have three games at the end of the season at Guaranteed Rate Field. While six is barely enough, it's plenty in the eyes of the beholder.
Twelve home runs at Wrigley Field. Also, they hit 28 home runs in a seven-game span that ended Saturday. The Cubs' Anthony Rizzo said that it could be 'very scary' when a team comes together like that. The White Sox Rick Renteria–who's going through his second in Chicago (Cubs, 2014)–has new and old alike as far as players.
More from Cubbies Crib
""We have a lot of guys that you can put on your coattails and they can carry you," White Sox manager Renteria observed. "We've been very fortunate. Hope it continues and this is just a sign of things as we evolve as a club." Jesse Rogers, ESPN Sports Writer"
Renteria is right. They're 'hot on the heels' of the Cubs. And maybe they will pass them. Who knows. They may 'sell' when the seasons done and be passed by the White Sox. I can't foresee the future–or what they will do. It's a mystery.
But Jose Abreau, Luis Robert and Eloy Jimenez are staples in the Sox lineup–and seem like the best way for beating them. Add to that Yasmani Grandal, Edwin Encarnacion and their built to last. Anthony Rizzo had some kind words for Abreau.
""He's one of the most underrated first basemen in the game, in my opinion.""
And that's coming from Rizzo, one of the other 'underrated first baseman' in the game. You can see from Rizzo and Abreau that on the video, they get along. Laughing and smiling, just living it up–at first base.
The Cubs' Javier Baez has a different story for the struggles.
""We're just trying too much," Baez said. "We care a lot. … I know it's a short season and there's a lot of pressure because we have to get better in a shorter time.""
The season is almost half over. Somewhat funny, don't you think? It's a 60 game season with a small room for error. They haven't had that. At least not yet.  The Cubs rank fifth in baseball in on-base percentage but 16th in batting average. Somethings got to give.