Cubs News: David Ross isn't worried about those bases-loaded situations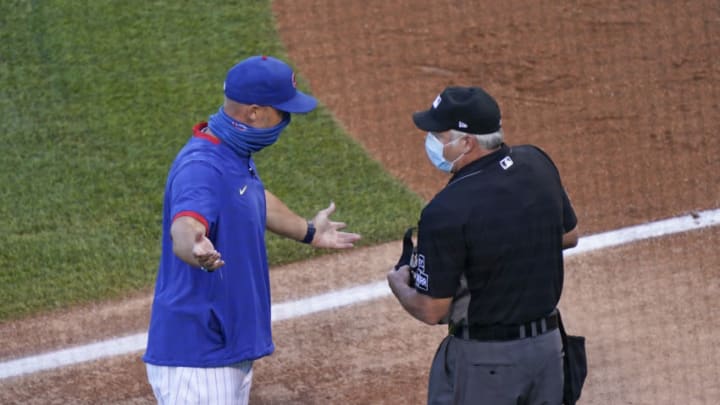 David Ross (Photo by Nuccio DiNuzzo/Getty Images) /
The Chicago Cubs' David Ross isn't concerned about the bases-loaded situations–at least not yet. Is it going to be?
The Chicago Cubs and David Ross aren't worried about the bases-loaded situations–at least not yet. Ross definitely wants to load them up. What's good for the goose is good for the gander. You might not get that reference. Basically, one is similar to the other–hence getting the bases loaded. The Cubs may not be scoring when the bases are packed, but they should be.
The Cubs are hitting a paltry .183 (6-for-33) with the bases loaded. And while they've struck out 14 times, most in the MLB, they rank 16th with 16 RBI. And while their not 'knocking the cover' off the ball? Ian Happ hit into a double play–a 103.2 exit velocity double play at the White Sox Tim Anderson. Damn you, Anderson.
More from Cubbies Crib
""I don't want the guys not to get their bases loaded," Ross said. "Happer hit that ball hard up the middle, somebody's standing right there." h/t Tim Stebbins, NBC Sports Chicago"
They've grounded into three double plays, and the tOPS+ is nine with the bases loaded. Nine is not suitable for the bases juiced. A 100 tOPS+ is average for the stat. But nine? Yikes.
Granted, they've gotten the chances through the rough spot. Meaning the Cubs offense will break out again in due time. In August, they have a slash line of .212/.323/.367 with an OPS of .689. July was a short week (seven days), but they hit .254 with an OPS of .829.
""We're going through a stretch right now that just is glaring, and the guys getting the bases loaded it's good, that's a good thing," Ross said. "So, I don't want to shy away from any of that.""
To be honest? I don't mind. They're going to break out of this thing sooner than later. Sooner would be the choice. A 60 game schedule and we're near halfway done with it. The NL Central looks a little weak; I'll say that. The St. Louis Cardinals are a game over .500–and their 9-8. The Milwaukee Brewers and Cincinnati Reds are at 11-15, with the Pittsburgh Pirates at 7-17.