Cubs continuing to produce offensively, despite high strikeout rate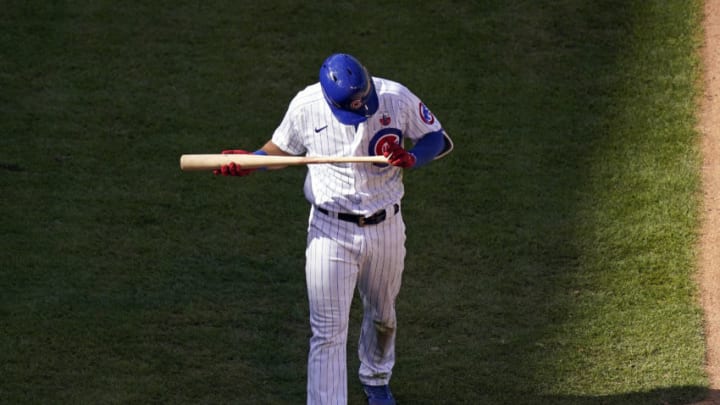 (Photo by Nuccio DiNuzzo/Getty Images) /
The Cubs continue to score runs and win games despite the highest strikeout rate in baseball.
It is always interesting how individual statistics across the game are supposed to drive expectant results and how often that does not seem to be the case. In the case of the Cubs, it is precisely that as entering the day, they leading all of baseball in strikeout percentage.
In the context at Fangraphs and how strikeout rate is measured individually, the club has ten players who fall into the category of 'below average' or worse when it comes to strikeout numbers. Six of those players currently have a strikeout percentage of 30 percent or higher with outfielder Steven Souza Jr. leading position players at 41.7 percent.
Despite these eye-popping numbers, the Cubs continue to score runs and maintain an impressive winning percentage as they sit 14-7 through the first third of the season and currently have a 3 1/2 game cushion in the National League Central. The question remains how they are doing it.
Chicago Cubs: Beyond the numbers
First and foremost, beyond the numbers, seems to be first-year manager David Ross's approach to each day. A few days ago, MLB.com's Cubs reporter Jordan Bastian sent a tweet with Ross's opinions, specifically on star shortstop Javier Baez's slow start.
Ross trusts his guys to produce. Since taking the job's reigns, Ross has been a true leader in believing in his approach to handling his lineup and allowing guys to figure it out for themselves. He doesn't press and understands the importance of players who are struggling early to right their ship with his support in the background. That in itself plays a big part.
More from Cubbies Crib
Chicago Cubs: Diving into the analytics
Regarding the statistics, several guys are still showing patience at the plate when it seems to count. For instance, first baseman Anthony Rizzo has an identical walk rate and a strikeout rate of 17.8 percent. A number of the teams' strikeout leaders are also maintaining 'above-average' and higher walk rates. Ian Happ, Jason Kipnis, and Kyle Schwarber are currently riding above a 15 percent walk rate, for instance.
BABIP has undoubtedly played into the success, too, to a point. The baseline for BABIP sits at .300, and some of that 'luck' from the few guys who have posted a much higher number has allowed for more runs. Kipnis, for example, at present, is maintaining a more than likely unsustainable .474 number.
Going right in the Cubs' favor this year, as is the case for many teams, is the rate at which balls are coming off the bat. From 2016-2019, teams averaged between a 30-40 percent rate of hard contact. The Cubs currently have a 41.1 percent hard contact rate, which ranks 17th across baseball.
As a club, the Cubs are taking more pitches inside the zone, which is something contributing to the higher strikeout rate. They rank dead last in Z-Swing percentage. Interestingly, they also fall below the average across the board in plate discipline.
In terms of pitch values, the Cubs are among the best teams when seeing cutters and curveballs. Facing Milwaukee Brewers starter Wade Miley, Cleveland Indians starter Adam Plutko, and Kansas City Royals rookie starter Kris Bubic has helped display better numbers overall from the offense. Each of the three starters has not found success with either of those two pitches.
The high strikeout rate is unsustainable for long-term success, but, for now, the Cubs continue to win games and produce positive results despite the high numbers. Once they can figure it out, this will be one of the most dangerous teams in baseball on a path to a postseason berth and World Series run.