Cubs News: The starting rotation is fire to begin the season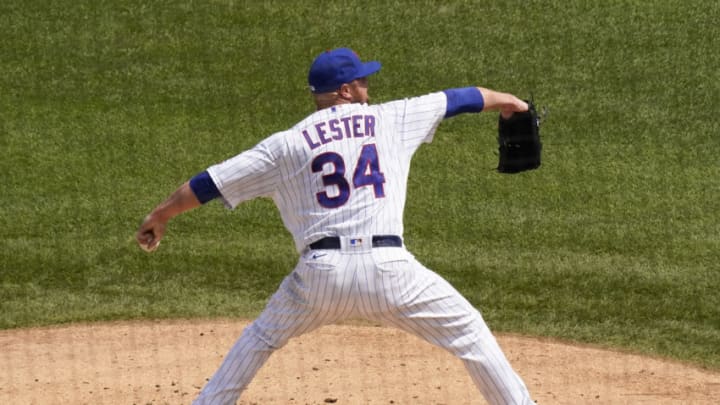 (Photo by Nuccio DiNuzzo/Getty Images) /
The Chicago Cubs starting rotation has been electrifying, minus Alec Mills, who pitches today. Can they keep this up for the season?
The Chicago Cubs rotation? Absolutely scintillating. It's started the first game with Kyle Hendricks with a complete-game shutout, and it continued with the last start as Jon Lester pitched six innings of one-run ball. But the spark of the starting rotation? Tyler Chatwood. That's right, I said it.
Chatwood has worked 12 2/3 innings with an ERA of 0.71, has allowed six hits and four walks, striking out 19 batters in his two games. 19 strikeouts. He's given up an ERA+ of 608, a WHIP of 0.789 (but not better than Lester) and no home runs. He's been outstanding in his two starts–so let's make it three. On to Lester.
Lester has the least amount of strikeouts (except for Alec Mills) with five. But to be honest, he's not a strikeout pitcher. He has an ERA+ of 530. That won't be the case for the season, but that's pretty good for the time being. He's got a WHIP of 0.545, tops in the rotation. He does have the second FIP in the rotation (4.14). But the cutter has been excellent. If the fastball control holds? Money in the bank.
More from Cubbies Crib
Hendricks has been a 'tale of two cities'. He was phenomenal in his Opening Day start, pitching a complete-game shutout with three hits and nine strikeouts. In Cincinnati, not so much the case. In 4 1/3 innings, he allowed seven hits and six earned runs with three strikeouts–raising his ERA to 4.05. He's been flummoxed by the Reds. He's allowed a 4.21 ERA in 18 games started. If he doesn't face the Reds, that's fine by me.
The Cubs' Yu Darvish was the opposite of Hendricks. Darvish pitched four innings in the first game, allowed six hits and three earned runs. In the last game, he gave up two hits and no earned runs in six innings of work and striking out seven. He threw 73 and 86 pitches, respectively. Darvish isn't going pitch a complete game–not with 86 pitches with six innings of work. Still, six or seven innings is good enough to hand it over to the bullpen–I hope.
The final one is Mills. In his season debut, he worked six innings of two-run ball (a quality start). He struck out three and walked two. He gets his second start today versus the Royals–the team who drafted him in 2012. I like Mills. He loves his fastball, which generates a high number of swings and misses. And his curveball is a decisive factor. He throws it 23 mph UNDER his fastball (90.75 to 67.57).
All of this is moot if they hand it over to the bullpen and they blow it. Although they give the ball to Lester, then the bullpen handles five innings of work with two hits. It's hit or miss with the pen. But their 7-2 on the season, good for tops in the National League. Maybe the Marlins or Cardinals won't blow the season. Wishful thinking?