Cubs News: Anthony Rizzo is a cancer survivor–and he's annoyed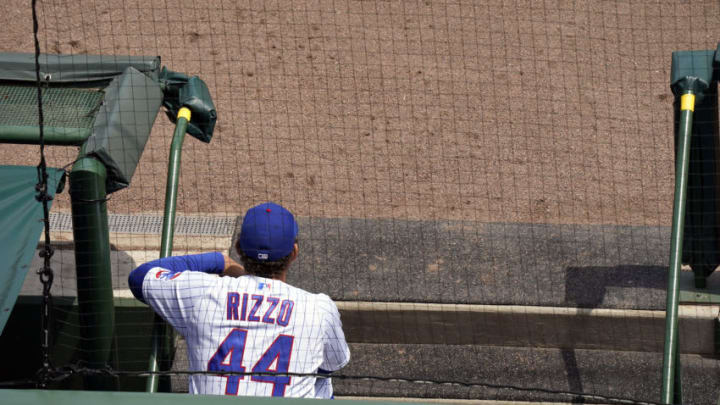 (Photo by Nuccio DiNuzzo/Getty Images) /
The Chicago Cubs Anthony Rizzo is a cancer survivor. That's why he was upset that the team was forced to sit for 8+ hours, waiting for the game to be postponed during the coronavirus.
The Chicago Cubs' Anthony Rizzo is mad. In fact, pissed off is a better way to put it. Rizzo is a cancer survivor. He does everything he can to avoid the coronavirus. But when the Cubs and the Cincinnati Reds were stuck in their clubhouse waiting for the game to be postponed? Rizzo was vexed.
And it's no wonder. Rizzo was mad about the social-distancing polices and whether the game would be postponed. It was. But it was the safety protocols that had Rizzo peeved.
More from Cubbies Crib
People are upset about the coronavirus. Or the Miami Marlins situation (17 players, two coaches infected with COVID-19). Maybe it's just the chaos we're living in, staying inside. But a 60-game schedule doesn't seem feasible. Rob Manfred said that they have a 'taxi squad' put together for a situation just like this. Really? Almost half the squad? Better put that in the 113-page safety protocol. Just saying.
Of course, Rizzo can opt-out–as several players have done. But he doesn't want to, not at the current date. He and Jon Lester are cancer survivors. But they are going to do what is needed not to contract the coronavirus.
If Lester or Rizzo experience symptoms, COVID-19 or not, they're probably going to opt-out. I don't know that for a fact–it's hearsay–but I bet they would.
But Rizzo isn't going to opt-out. Lester? Nope. Not until they have to–which could be the premature end of the season, to be honest.
The Marlins and their outbreak. The 113-page safety protocol for players and coaches. The players are opting out. 60 games in 66 days? Yikes. You'd be hard-pressed getting a schedule out at that time. Heck, August 3 is the days the Marlins will continue–but you can't count on it.
To be continued…