Chicago Cubs' Ian Happ seems finally ready to turn a corner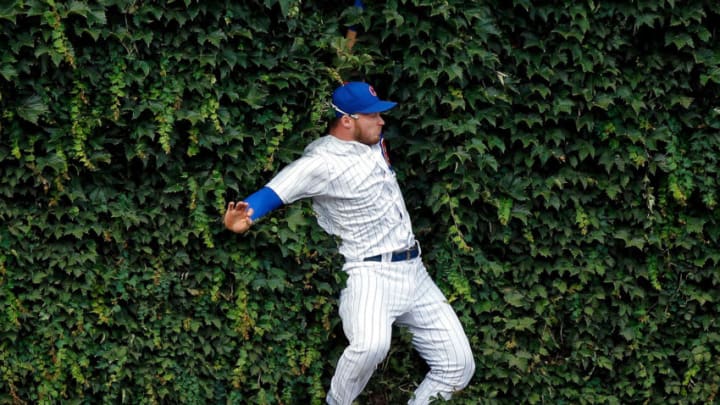 Ian Happ, Chicago Cubs (Photo by Jon Durr/Getty Images) /
Chicago Cubs' Ian Happ is picking up where he left off last season, and that should excite fans.
It has seemingly been a long-winded Major League Baseball journey thus far for Ian Happ. He joined the Chicago Cubs in 2017 as a 22-year-old and immediately made an impact. In his MLB debut, he homered versus the St. Louis Cardinals.
Since that May, Happ has been a smorgasbord of production. He struggled in 2018, his first full season in the majors, batting just .233 and striking out at a 36.1 percent rate over 462 plate appearances.
Last season, however, something changed. Happ played 58 games for the major league squad and spent most of his 2019 campaign at Triple-A Iowa tweaking his mechanics. It certainly helped as he put together a career-year in several offensive categories. It seems to be carrying over, too, and that should get fans excited for his future.
'Wake Me Up When September Ends'
It seems like a great time to pay homage to one of my quintessential punk-rock bands I grew up with through high school in 'Green Day.' For Happ, September was a dream month existing in the scope of reality. He put together a more robust month than anybody could have imagined.
More from Cubbies Crib
Over 26 games encapsulating 66 total plate appearances, Happ slashed .311/.348/.672 with a 1.021 OPS. His ISO over that span was .361. Talk about a powerhouse of a month. Happ also managed to post a 155 wRC+ with six home runs and 17 RBI. His strikeout numbers were still significant, however, improved.
Happ is someone who the Cubs are coming to rely on offensively. The debate between him and Albert Almora favors Happ (sorry Albert stans) heavily, and he seems to bring more energy to the offense. It doesn't hurt he can hit from both sides of the plate.
Diving deeper into analytics
A deeper dive into specific advanced metrics also show how much Happ has improved in the quality of his at-bats. The stat introduced from MLB Advanced Media, known as xwOBA, looks at exit velocity and launch angle on most balls in play to determine production. Sprint Speed is also included on certain batted balls.
For Happ, he ranks in the top five across baseball in xwOBA, over his last 50 plate appearances. His 'rolling window' as it is referred shows his xwOBA jump from .272 to .476. Even over a larger sample size of 100 plate appearances, Happ showed an improvement in his xwOBA of a .035 delta–which is the difference between past and present.
As we are only through three games of this truncated season, with a possibility of seeing the season being shut down to new COVID-19 cases across the league, Happ is picking up where he left off last year. He is still striking out, but not as significantly. Through his first 11 plate appearances, he is slashing .300/.364/.900 with a 1.264 OPS. Happ also has two home runs and five RBI.
Per a tweet from Bleacher Nation's Michael Cerami, Happ is already doing some extraordinary things this season.
It could be a pipe dream of sorts to expect something spectacular out of Happ. However, he is showing significant improvements in every offensive area of his game, and for right now, that is all we as Cubs fans can continue asking of the 25-year-old.