Chicago Cubs, Brewers lose nothing with the COVID-19 epidemic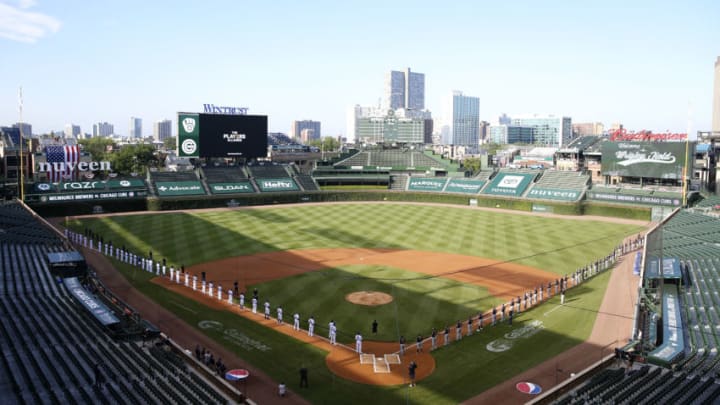 Chicago Cubs (Photo by Justin Casterline/Getty Images) /
The Chicago Cubs and Milwaukee Brewers lost nothing with the coronavirus–and sitting in the dugout hearing EVERY word?
Imagine the Chicago Cubs and Milwaukee Brewers sitting on opposite sides of the field–but without the crowd noise, beer vendor sales, etc. Say Lorenzo Cain has some 'choice words' for Anthony Rizzo and it's on. That's going to create anxiety between the two dugouts–but no brawl.  This is 2020.
The rule states that: "Fighting and instigating fights are strictly prohibited. Players must not make physical contact with others for any reason unless a normal and permissible part of game action."
But that's not what Cain thinks about it. He starts a brawl? He's going to finish it. Don't believe him?
More from Cubbies Crib
""Honestly, I don't really care what it says,'' Brewers center fielder Lorenzo Cain said. "If it happens, it happens. We're all going to have each other's backs. Hopefully, it doesn't come to that, but emotions are high. Hopefully we can avoid that situation because we don't want to be in close contact. But if it happens, it happens.'' h/t Bob Nightengale, USA Today"
In a 60 game season, it's different. In a 10  or 15 game suspension, it's a month. You have two to three guys out and you can forget the postseason. The dugouts can hear each other–umpires, too. 2020 is going to be a challenging year. Players, coaches and umpires need to settle down if there's to be 'peace among us.'
The umps can't toss people for saying something–anything terrible. They hear everything that's being said. It's different now. The Brewers and Cubs were handled splendidly. No fights. No ejections. And Cain 'changed his tune' as far as the fighting.
""It's going to be tough throughout the season,'' Cain says. "But at the end of the day, we have to find a way for both sides to tone it down. We just want to go out there and play the game the right way, and do the right thing.''"
Three games. There are 57 left. Godspeed that we make it. I heard that two games were canceled, per friends. I don't know if that true. The Miami Marlins should be canceled, though. Fourteen out and counting? That many cases are going to be bad for baseball.