Chicago Cubs, Yu Darvish go back to the drawing board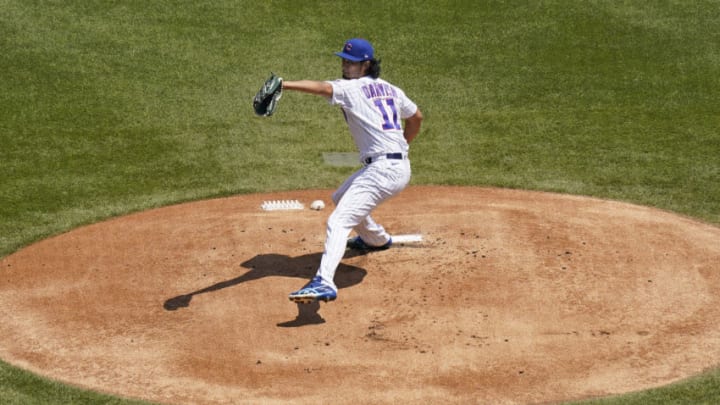 Yu Darvish (Photo by Nuccio DiNuzzo/Getty Images) /
The Chicago Cubs' Yu Darvish hit his pitch count. Unfortunately, it was after four innings. Yu's got a little work to do.
For the Chicago Cubs, it's a sprint, not a marathon. Who would've thought, am I right? Yu Darvish hit his pitching count–after four innings of work. He finished with 73 pitches–75 was his mark. He allowed six hits and three earned runs while striking out five. Darvish is not known for being 'light' on pitches–or throwing them in a timely manner.
Still, 73 pitches were too much for four innings of work. Now granted, he could've have come out, thrown a 10 pitch inning and be good to go. But David Ross knows his pitcher–and he realized he didn't have it in him. And Darvish knew it, too. And a 'blown rundown' which they didn't get anybody out–and nine pitches that followed. Darvish and the rest of the club knew he wasn't that bad.
More from Cubbies Crib
But he still has some stuff to work on. The stuff that was out of the zone–specifically splitters and changeups. He's got two strikeouts on it. But the stuff was out of the zone–high–and Darvish gave up an RBI single in the mix. He needs to work on getting them down in the zone (Subscription required) and go from there.
The bullpen? That was a different case. Duane Underwood Jr. looked fine other than the homer he gave up to Justin Smoak. And I got to be honest? Smoak's is going the have a turnaround season. But Brad Wieck, recovering from minor heart surgery, and James Norwood gave up four earned runs–two apiece.
The offense was just how they had been. Three runs–except Kyle Hendricks was on the mound. He was spectacular on Opening Day. Orlando Arcia? Three hits. That's all Hendricks gave up. Darvish only gave up three runs–but in four innings. Again, he wasn't bad–just not good. With the second-half he had last year, he needed to get off to a great start. See me next start to let you know how he's doing.
Rex Brothers and Dillon Maples pitched the final two innings, striking out three. Brothers, a left-hander, and Maples were supposed to get in some 'high-leverage' game. Down five, those aren't high-leverage. But Maples and Brothers did their jobs, and that's half the battle.