Cubs fans will have pay a hefty price to watch a game from the rooftops this year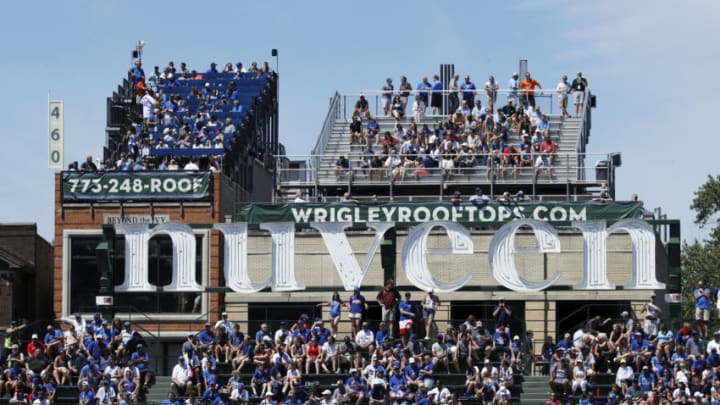 Wrigley Rooftops / Chicago Cubs (Photo by Joe Robbins/Getty Images) /
Cubs fans can expect eye-popping prices at the Wrigleyville rooftops this year.
Let me begin by saying I really enjoy going to the rooftops to catch a Cubs game. I like the atmosphere, especially if you've got a good group you're going with. It's nice to know that every beer you grab won't cost you $12 and you can eat as many hot dogs as you can physically handle.
It's definitely different than being inside the Friendly Confines, though. More often than not, you get corporate gatherings and things of the sort on the rooftops – in other words, people who are there more for a good time rather than watching the game itself. Now, there's nothing wrong with that, but it's good to know heading into it.
More from Cubbies Crib
This year, it'll cost Cubs fans more than ever for the experience, though. Given no fans are permitted in Wrigley Field, rooftop capacities are capped at 25 percent and the season is shortened to just 60 games, meaning a loss of 50-something home games, it's a whole different ballgame for the rooftops.
The independently-owned Wrigley View Rooftop has games going for as high as $400 already. The cheapest option for that venue for any of the games not already sold out is $350 – a steep price you usually wouldn't sniff unless the Cubs were playing in the postseason.
As most Cubs fans know, the Ricketts family now owns the overwhelming majority of rooftops – 11 properties in total. There are no prices listed as of yet, with a 'CHECK BACK SOON' message front and center on the Wrigleyville Rooftops website, but it stands to reason given the franchise's 'biblical' losses this year, the prices will be right in line with what we're already seeing out there.
For some folks, this cost means nothing. They want their live Cubs baseball more than ever given the chaotic year we've all experienced so far. But for a great many people, this only puts seeing live baseball on the North Side more difficult than ever. One of the biggest failures of MLB is making attending games more affordable as costs to do so have skyrocketed in recent years.
This COVID-19 pandemic will do no favors for those individuals and families who want an escape and a sense of normalcy via live baseball. It's definitely worth asking yourself if it's worth it, though. Maybe, just maybe, holding off and waiting for the arrival of a post-coronavirus world makes more sense and will make Cubs baseball all the sweeter.
Perhaps we all took it for granted. Hearing the buzz around the ballpark on game day. Being crammed into a Red Line car headed to the Addison stop on a Friday afternoon. Smelling dogs on the grill and the first glimpse of the ballpark as you ascend the steps from the concourse and the air is filled with the familiar sounds of the organ.
If you can't justify $400 for three hours of watching a Cubs game from across the street, fret not. Baseball will return some day – and when it does, I imagine being in the stands at Wrigley Field for the first home game will be unlike anything any of us have ever experienced.