Chicago Cubs: Full season? Don't bet on that being the case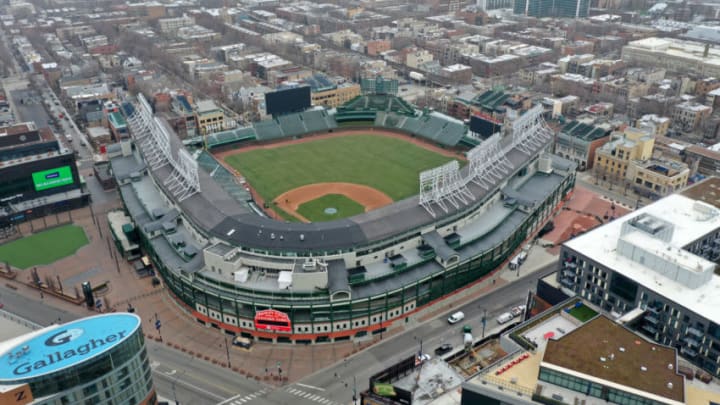 Chicago Cubs (Photo by Scott Olson/Getty Images) /
The Chicago Cubs and banking on a 'full season'? Don't count on it. Big-league baseball has other ideas.
After a months-long shouting match between baseball's owners and the player's union, baseball will finally happen starting July 1st. There are 60 games on the schedule, but how many get played may be out of baseball's control.
COVID-19 is still ripping its way through the country. And the 60-game season is slated to start July 23 or 24, with another round of spring training happening July 1st. Spring Training games will be played at home ballparks, and it is unknown whether fans will be allowed for the regular-season games.
The coronavirus has already started making its way around Major League teams, with Colorado Rockies' star Charlie Blackmon tested positive, as well as within the organizations of the Seattle Mariners, Detroit Tigers, and Boston Red Sox.
The Tigers had a player and a staff member outside the baseball operations department come up positive, according to CNN. The Mariners have had more than one player with a positive test, according to GM Jerry Dipoto. As for the Red Sox, one player on the 40-man roster tested positive. ESPN reports that the Philadelphia Phillies have had 12 total tests within the organization
Major League Baseball announced some health and safety protocols as a result of COVID-19. According to Yahoo! Sports, players deemed high-risk by a team doctor can opt-out of the season and still receive full pay and salary. However, the league will not extend the same opt-out benefits to those with a high-risk family member.
That provision could come into play with the Cubs. Anthony Rizzo is a cancer survivor, and he may not feel safe every game and he could very well opt-out. The Cubs have yet to have any positive COVID-19 tests, but with how it's running through MLB organizations, it's only a matter of time, unfortunately.
More from Chicago Cubs News
The hope is that players and those involved with game-day operations/front office executives get it now and get it out of the way before the season starts, and of course that everybody comes out healthy.
The biggest thing in this entire operation is making sure everybody stays healthy and nobody's life is at risk. Players stand close together in dugouts, which aren't big spaces to begin with, and if they are closer together, and it gets transmitted from one player to another, the cases are going to skyrocket. How long will the league wait before they decide to call games off because the number of COVID-19 cases among players is too high?
There is the issue of fans in the stands. Some states such as Texas are allowing half-filled stadiums for sporting events, according to CBS Sports. Astros owner Jim Crane echoed the sentiment on Wednesday. Illinois' Governor J.B. Pritzker is allowing 20 percent at Chicago stadiums, according to NBC Sports Chicago. While Wrigley Field is known as the "Friendly Confines," it can get intimidating when the sold-out crowds get rowdy and loud during crucial moments.
With the current COVID-19 conditions, and some teams residing in states that just saw a record increase of new cases (California, Texas, and Florida), it's hard to imagine the full 60 games getting played once everything gets in action.
In the Cubs' case, from a pure baseball standpoint, they need this season and next season with some of the leading players set to become free agents after 2021 with Rizzo, Kris Bryant, Javier Baez, and Kyle Schwarber all set to hit the market. With a new manager, and the Cubs' core coming to the end of their time in the Windy City, fans would like to see manager David Ross in action. These players would love to give it one more good run at a World Series Championship before they go their separate ways. The world may have other ideas.