Chicago Cubs: Shawon Dunston believes in Ed Howard's future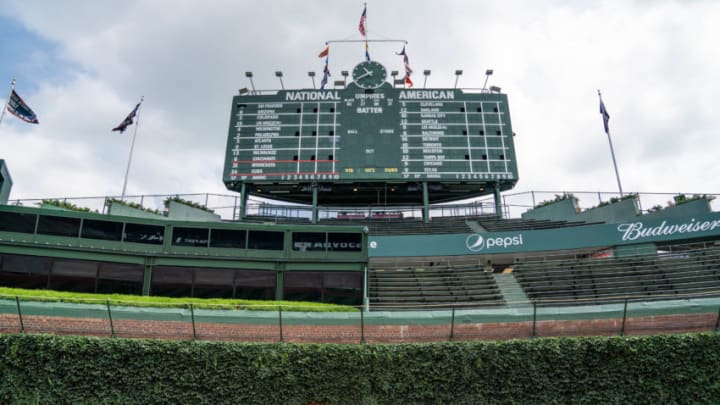 Chicago Cubs (Photo by Brace Hemmelgarn/Minnesota Twins/Getty Images) *** Local Caption *** /
Ed Howard (Photo by Rob Carr/Getty Images) /
Six years after first taking note of the organization's 2020 first-round pick, former Chicago Cubs shortstop Shawon Dunston believes in Ed Howard's future.
Looking back on the 1982 Major League Baseball amateur draft, there are a few names who stick out in the first round. Most notably for Chicago Cubs fans is Shawon Dunston, who the team drafted with the first overall pick.
Choosing to pass on another guy who would turn into a superstar in his own right, Dwight Gooden, the team opted to go with Dunston, a high school shortstop from the great city of Brooklyn, New York.
Thirty-two years later, Theo Epstein and the crew chose a similar path when they selected Mt. Carmel high school shortstop Ed Howard this year with the 16th overall pick. Howard, who most believe is the best shortstop in this year's class, now shares a special connection with Dunston and has his big shoes to fill for the city of Chicago.
More from Cubbies Crib
Chicago Cubs: Built from the same cloth
Being the first overall pick in a professional sports draft can be a daunting reality. The pressure that comes with it can be overwhelming and, if you are not ready to step into the national spotlight, a rude awakening.
Dunston learned all about the spotlight when the Cubs chose him as their guy thirty two years ago. His journey through the minors was one he will never forget as the culture shock was a different story than it is today. The support was also on a different level as Dunston made known talking with Chicago Tribune's Mark Gonzales recently.
""The minors were nice. When I got to the big leagues, not everyone was on the same page. Some didn't want me on the team. Some did. I just hope they take care of them.""
In today's game, there seems to be a lot of support surrounding player development. Javier Baez, who has become a fan favorite, and Albert Almora, were both former high school picks. Baez has been much more productive at the significant league level than Almora. However, both have reached the Show through the development and culture of the club.
Howard will hopefully similarly move through the organization. Luckily the infield is locked down with Baez and 2018 first-round pick Nico Hoerner so there should not be any rush for the former little league standout.
Dunston was in the big leagues by 1985, where he slashed .260/.310/.388 in 74 games. Unlike Howard today, there did not exist special baseball programs, nor was travel baseball a thing. Speaking on the impact of being a first overall pick, Dunston connected the pressure as though you're expected to be "Superman."
""I wasn't that polished like (Howard). Look how he moves his feet. I had a stronger arm, but it took me after 1986 to have an internal clock.""
Chicago Cubs: A bright future awaits
Dunston played with the Cubs from 1985-1995. He slashed .265/.294/.407 and earned an all-star nod twice — 1988 and 1990. He hit .287 in the first half of 1988 and .281 in the first half of 1990 but unfortunately fell off in the second half of each season.
Back then, it was only about baseball, and Dunston loved to play the game. The pressure of being the best isn't like it is today in most regards, and Dunston wants that message to be known to Howard as he progresses through his journey to the big leagues.
Dunston believes in Howard because of Howard's early exposure on the stage of the Little League World Series and Howard's time with the Jackie Robinson West team. He sees Howard taking charge of the expectation a first-round pick brings and believes in Howard and what Howard can hopefully bring to his city a couple of years down the road.