Cubs: A fan wants his $12,500 back from MLB, Cubs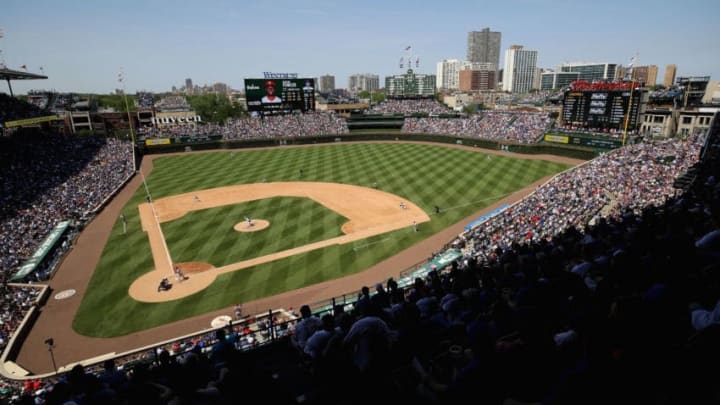 (Photo by Jonathan Daniel/Getty Images) /
A Chicago Cubs fan, Ray Blase, wants his $12,500 back. But he isn't going the route of Yankees fans. He admits he's waiting for the team to 'do the right thing.'
Back in 2016, Chicago Cubs fan Ray Blase started the trend of purchasing tickets for a large group. By 2020, he purchased $12,500 tickets for his group–two of them–the most he's ever spent. Now he's out of luck.
From the NHL to the NBA to the MLB, teams are operating under the guise of not giving cash refunds, postponed or rained-out games. Really?
Julian Green, vice president of communications, said they'll clarify when there's more definitive information. He said fans should retain their tickets and await further details. One issue is the states, not the federal government, are deciding when large events will happen.
Blase is convinced that there will be no professional sports in 2020–at least without fans.
More from Cubbies Crib
""The reality is there's not going to be any sports in this country this year," he said. "There's no way you can social-distance at a ballpark." h/t  Lee Rood, Des Moines Sports Register"
He's got a point. What? Are you supposed to sit five seats away? And what about the 'six feet' of separation? That ain't going to happen. If it doesn't happen in Buffalo Wild Wings, (my brother works there. It doesn't work) it's not going to work elsewhere.
The Wall Street Journal is telling teams that they can formulate their own plans. Clubs are expected to announce their details of new policies.
""At the moment, we are viewing the home games that haven't been played as being postponed, to be made up later — in an extended season, with doubleheaders, etc. So as yet it doesn't affect any ticket purchases,"  Michael Gartner, an owner of the Iowa Cubs."
Any fan whose unhappy with waiting can take matters into their own hands. They may decide to do it through the credit card company or refund with the ticket seller. Most outlets are offering refunds or at least some sort of combination of a refund and tickets for next year.
Blase bought his tickets through American Express while he waits to see what the team will do. The team would be best to refund the tickets–for the good of the fans. That's the decision of the state of Illinois.
Editors note: See here for what the team will do.