Chicago Cubs: Cubs songs you might not know by heart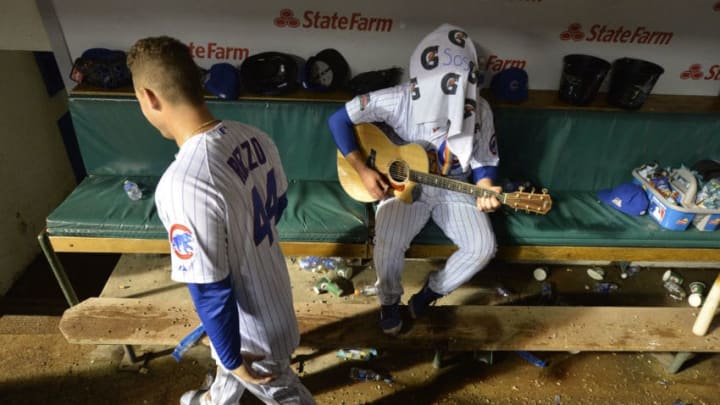 Anthony Rizzo / Chicago Cubs (Photo by Brian D. Kersey/Getty Images) /
Brett Eldredge sings Goodman's 'Go Cubs Go' / Chicago Cubs (Photo by Jonathan Daniel/Getty Images) /
Chicago Cubs:  A dying Cubs fan's last request song
In 1984, a Chicago-native named Steve Goodman debuted a song that has stood the test of time at Wrigley Field. Before the 1984 season, Goodman wrote, "Go Cubs Go," which is the fan staple after a winning game at Wrigley Field.
Goodman was a folk songwriter who had originally written the Grammy Award-winning "City of New Orleans" that has been performed by many artists, including the legendary Arlo Guthrie.
Goodman contributed three Cubs songs to the universe's collection of music about the Friendly Confines of Wrigley field and the team. These songs include "When the Cubs Go Marching In," "A Dying Cub Fan's Last Request," and everyone's favorite, "Go Cubs Go."
"A Dying Cub Fan's Last Request" was written in 1983 and rubbed Cubs Executive General Manager Dallas Green the wrong way, especially when it mentions the Cubs being the doormat for the National League.  It almost meant there would be no "Go Cubs Go" song, but cooler Cubs heads prevailed in the end.
The tragic tale of Goodman is that he never lived to see the Cubs win the 2016 Championship and died of leukemia in 1984 six months after writing "Go Cubs Go." It's unclear whether Goodman ever even heard fans sing his song since Goodman passed on September 20, 1984, and the song was first played when the Cubs won the 1984 National League East Division Championship on September 24, 1984, at Three Rivers Stadium in Pittsburgh.
To make matters worse, Goodman's family sold the rights to some of Goodman's songs, including "Go Cubs Go" just before the 2016 World Series Championship.
Goodman wouldn't be the only Chicagoan inspired by the Northsiders because sitting in the stands in the '70s and '80s was a young kid from Evanston, Illinois named Eddie Vedder.