Chicago Cubs: Cubs songs you might not know by heart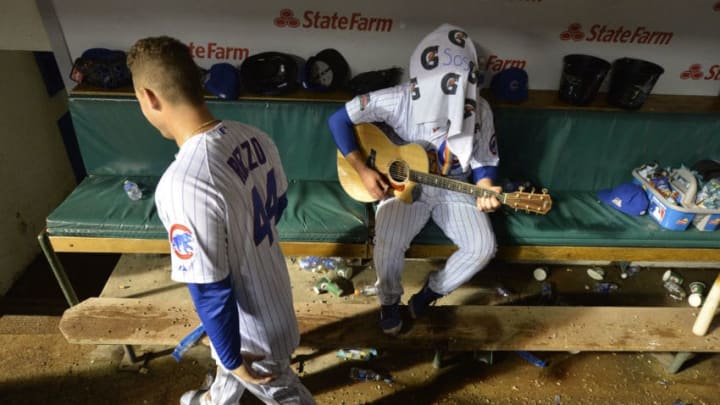 Anthony Rizzo / Chicago Cubs (Photo by Brian D. Kersey/Getty Images) /
Eddie Vedder / Chicago Cubs (Photo by David Banks/Getty Images) /
Chicago Cubs: Another songwriter takes on his hometown Cubs
I have to admit I was rocking to Pearl Jam since 1990 when they debuted as a Seattle-based alternative rock band. Like most, I was intrigued by the lead singer who had this raw energy and talent that reminded me of Michael Stipe from the Georgia rock alternative band, R.E.M.
Stories revolved around the band's lead singer, Eddie Vedder, and his Jim Morrison of the Doors-like endeavor to not be a rock star and instead be a writer/poet. Rumors of Vedder carrying a dingy old notebook that contained hundreds of songs, ideas, and scribbles became a cult legend in rock mythology.
I began to see Vedder more often at Wrigley Field as time passed, and in 2016, he was right in the mix of the party. Vedder's contribution to Cubs music is supposedly inspired by Ernie Banks, who told Vedder he should write a song for the Cubs that the city and fans could get behind. Vedder took Banks' recommendation to heart and, in 2008, released the song, "(Someday We'll Go) All the Way" or "All the Way" as it's titled.
The song was released in 2008 in honor of the 100th anniversary of the Cubs' last championship. The song is such a tear-jerker that it hasn't gained as much steam as Goodman's, "Go Cubs Go," but Vedder is still young enough to give the Cubs maybe another fight song. Recently through video and concert footage shot at Wrigley Field, the song has gained more popularity among die-hard fans.
Some Cubs fan's favorite songs have gone by the wayside, and not many people even remember them. This is what you were waiting for Cubs fans. Time to test yourself; next up are the songs fans most likely, won't know by heart. How many do you know?