Chicago Cubs: What NFL positions would Cubs players play?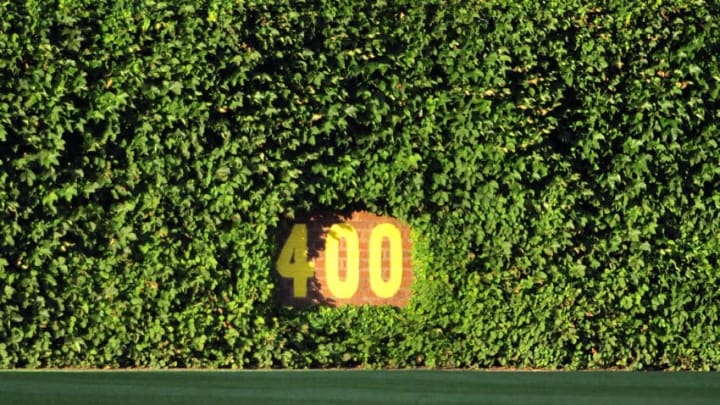 (Photo by David Banks/Getty Images) /
The NFL Draft happened Thursday night, and with no sports happening anywhere, the return of some sports-related programming was must-see TV for many.
The draft got us thinking, which current players on the Chicago Cubs would make the best NFL prospects? Anthony Rizzo is one of the first names to come to mind. Rizzo has the build and athleticism to be a productive tight end or even linebacker in the National Football League. His speed has significantly diminished the past couple of seasons, however – not that he was ever a burner in the first place.
Kris Bryant may even be more athletic than Rizzo, and he would make an ideal wide receiver. He has enough speed, size, and length. Bryant isn't very bulky, so that he may be more prone to injury than the average player. As we've seen at the plate and handling the hot corner, Bryant has some quick wrist and hands, so catching a football should be no problem.
More from Chicago Cubs News
This team needs a quarterback, and look no further than Javier Baez. Much like NFL QBs, Baez does it all. He has the arm; he has the speed; he can improvise on the basepaths and make plays. When he goes, as do the Cubs. The arm strength and all-around skill make him an ideal fit for the role. Plus, if things start going haywire, he can change direction and make a play as we've seen him do at shortstop so many times.
Willson Contreras is the Cubs' NFL running back. He is a bruiser, and he has a tendency to play reckless on the field sometimes, which helps him here because running backs take a lot of hits. Contreras can play multiple positions to show off his versatility, and with backs being used to catch the ball out of the backfield these days, Contreras should have no issue doing that; After all, he is a catcher.
Now, to the defensive side of things. Jason Heyward is the defensive back. It's simple, he has five gold gloves and he is a ball hawk in the outfield. If the ball has even a slight chance to be caught, Heyward is going to get there. The same would go for the football field. Now being 6'5 and 240 pounds, he may be at a size disadvantage playing the position, but he has enough athletic ability that he would adapt and have no problem.
The most obvious answer in this whole exercise is Kyle Schwarber. Schwarber did play football in high school as a linebacker. He is 235 pounds, so he would have to bulk up a little again, but he would be the captain of the defense and certainly would not be afraid to lay a massive hit or two.
The NFL Draft can be one of the fun nights of the year if your team drafts, which they should draft and not Mitch Trubisky. Oh, did I say that one out loud? Apologies. Sports were back if not only for a brief time last night, and it helped us escape everything that's happening in the world right now.