The Cubs and what a post-Craig Kimbrel future may look like for the team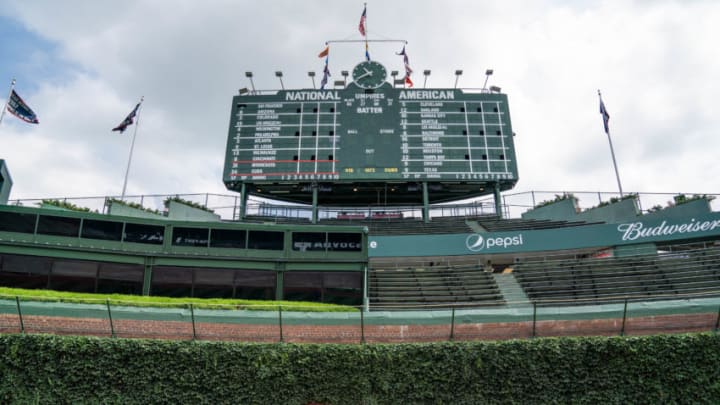 Chicago Cubs (Photo by Brace Hemmelgarn/Minnesota Twins/Getty Images) *** Local Caption *** /
Current closer Craig Kimbrel does not become a free agent until after the 2022 season. While that remains a long while off, it is never too early to peek behind the curtain at the next possible option to be closing Chicago Cubs games for the next decade.
Ever since the Chicago Cubs World Championship-winning 2016 campaign, the team has enjoyed a handful of guys who have been able to close out baseball games successfully. Aroldis Chapman played a significant role during the postseason that year, followed up by Wade Davis and his 2.30 ERA in 2017, and Brandon Morrow and his 1.47 ERA in 2018.
Unfortunately, last season there lacked a baseline of stability. Craig Kimbrel signed his contract midway through the season, and, while there was significant excitement from fans at first, it quickly fizzled out after his extreme performance and trip to the disabled list in September.
More from Cubbies Crib
Still, Kimbrel is here for the next couple of years, and we will make the best of it. Moving forward from Kimbrel, however, is the new wave of future closers in the National League Central, to include to the Cubs. So what does that look like for the team and fans alike?
Chicago Cubs: Scouring the international market
One area where the Cubs seem to be significant players each year is the international market. That retook center stage in 2016 when the club signed a young kid out of Mexico named Manuel Rodriguez. At the time, Rodriguez was just 17 years old, playing for Leones De Yucatan.
It was a rocky first season; however, Rodriguez bounced back as an 18-year-old and displayed an array of solid stuff to carry him to a 1.84 ERA. He once again struggled in 2016 before the Cubs signed him away from the Mexican League.
Rodriguez's first taste of professional baseball came in 2017 as a 20-year-old at Class-A South Bend. In the minute sample size of 6 2/3 innings, Rodriguez posted a 5.40 ERA. The Cubs dropped him down a level to Short Season Class-A Eugene, where Rodriguez improved immensely. His ERA dropped to a 3.52 over 23 innings as well as a significant spike in his strikeout rate, jumping from 14.7 percent to a whopping 34 percent.
In 2017-18 Rodriguez spent 15 games in the Mexican Pacific Winter League before returning to the United States. In his time down in the winter league, Rodriguez found a groove and posted a 2.37 ERA. Unfortunately, it would not last as he struggled with a 7.59 ERA upon his return to South Bend.
Chicago Cubs: 2019 and beyond!
The Cubs promoted Rodriguez to Class-A Advanced Myrtle Beach this past offseason, and he displayed a level of production which fans had expected from him from the beginning. Rodriguez carried a 33 percent strikeout rate over 47 innings and finished with a 3.45 ERA.
One of his most impressive statistics was his incredibly low 2.04 FIP, which Rodriguez cut in half from his time at South Bend, as well as his xFIP, which, again, was cut nearly in half to 2.39, down from 4.24. It was a significant step for Rodriguez.
MLB.com recently released its projections for the future wave of closers in the National League Central, and Rodriguez was their guy. Many Cubs hitters who faced Rodriguez in batting practice during spring training this year were perplexed by his stuff and movement.
It is interesting to see Rodriguez as the surefire choice to close future Cubs games, but the reality is that there doesn't exist a real closer in the pipeline currently. Rodriguez was, unfortunately, dealing with a Grade 2 biceps strain. However, it could become a moot point due to the delay in the MLB season due to COVID-19.
Nevertheless, it will be fun to follow this projection and Rodriguez through the system. Rodriguez is still just 23 years old, and so has a ton of time to develop. If the organization can keep him on a healthy track, there is no reason to think he can't be the guy. Only time will tell.