Chicago Cubs: Jhonny Pereda is shipping up to Boston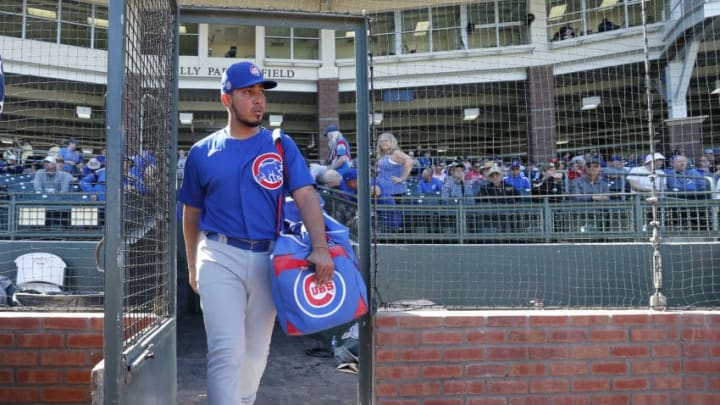 Jhonny Pereda, Chicago Cubs (Photo by Ralph Freso/Getty Images) /
In what feels like an eternity ago, the Chicago Cubs made a seemingly harmless move to acquire a pitcher for a Player To Be Named Later or cash. The details are finalized, and it's a big 'L' for the Cubs
Chicago Cubs catching prospects seem a dime a dozen, especially if you're a Cubs fan. No, I am not suggesting Willson Contreras is one to fall into that category per se, but the depth of backstops in the organization is nothing short of staggering.
That depth became just a tad bit thinner as reports broke about the 'PTBNL' in a trade dating back to the end of January. The Cubs acquired RHP Travis Lakins, and now, two months later, headed to Boston as it were is 24-year-old Jhonny Pereda. As has become familiar with Pereda over the past year, this is a blow to the Cubs.
More from Cubbies Crib
The catching depth is still rock-solid that much we know. However, the process of how this went down and the immediate unfortunate fallout once Lakins arrived in the organization will make me scratch my head for a while as to how this whole thing transpired.
Chicago Cubs: Oh, Jhonny Boy
Pereda was just 17 years old when he signed with the Cubs way back in 2013. He spent his first season of professional ball at the rookie-level in the Venezuelan Summer League. Pereda struggled somewhat out of the gate, working his way to a .213 average and a 68 wRC+ in 59 games.
Still, there were numbers even in that first year, which stood out most notably his double-digit walk rate and his middling strikeout rate. Pereda possessed the ability from an early age of being able to see the ball well, which translated as he worked his way through the system.
Pereda finally moved from rookie-level in 2016 after spending two seasons in the Arizona Summer League. His best year did come in 2016, as Pereda slashed .289/.376/.406 with a 125 wRC+ and a 10.7 percent walk rate. In subsequent years following that season, Pereda jumped first from Class-A in 2017 up to Double-A last season.
Chicago Cubs: The deal that wasn't
It is a strange dynamic to watch a trade unfold only to see the terms from the original deal solidify after the player involved initially is no longer in the organization. Following the trade for Lakins, he spent a solid week and a half with Chicago before being scooped up on waivers by the Baltimore Orioles.
Chicago felt it necessary to play baseball roulette with Lakins, hoping he would sneak through the wire without further movement in an attempt to keep Lakins without a commitment for a 40-man roster spot. Baltimore felt stronger as the Cubs lost Lakins and now do not have Pereda.
Never have I seen a deal go down where the original team making the deal loses both the player they traded for and a player down the line as part of the trade. It's a mind-boggling situation and one which hopefully will not bite the Cubs in the butt.
Chicago Cubs: Where do we go from here?
Okay, so Pereda is gone. Not all hope is anywhere close to lost, however. Contreras is still under contract through the 2022 season, and there are some pretty solid catching prospects waiting for their chances in the wings now that Pereda is off to Boston.
Pereda won the Gold Glove last season for minor league catchers after posting a .996 fielding percentage and displaying a keen sense behind the plate. His bat has shown flashes of potential, but he is 24 years old who spent the season in Double-A last year, and his bat seemingly has not caught up to the rest of his game.
While the loss of Pereda is not ideal, it does open the possibility quite a lot for other guys in the organization. It also gives Pereda the chance to find his groove and work on his career without a log jam. It stinks that the Cubs messed themselves around, but best of luck to Pereda in his next endeavor.