Chicago Cubs: Listening to games could be changing soon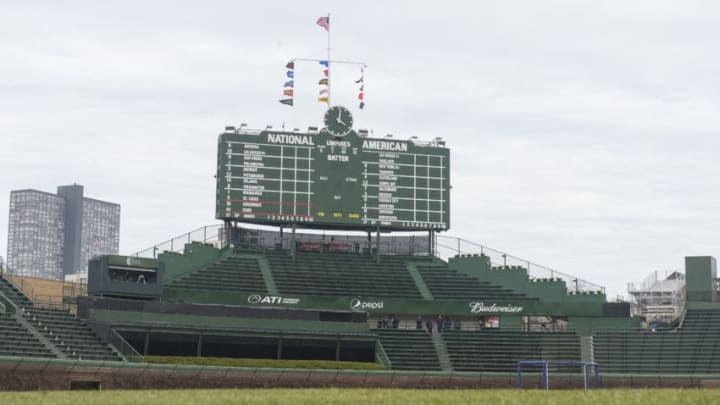 Chicago Cubs (Photo by Brian D. Kersey/Getty Images) /
If the news out of Oakland this week is any indication, there could be some changes in how we listen to Chicago Cubs games in the future.
With all the controversy surrounding the Marquee Sports Network – and fans have plenty of reason to be concerned – Chicago Cubs fans may have missed another piece of important news this past week that could have a significant impact on how we follow games in the future.
This past week, the Oakland Athletics became the first team to announce that all of their audio broadcasts of games will be available exclusively through online streaming. That's right: A's fans will no longer be able to listen to their team's games over traditional radio.
This appears to be a pretty bold move, mainly coming from a small-market franchise that has struggled to draw fans to their games and faces an uncertain future with their stadium situation ongoing for years now. Yet it shouldn't come as a total surprise, as we continue to move both towards more specialized and more digital methods of following the game.
More from Cubbies Crib
For example, many teams are now offering mobile-only tickets for entrance into their stadiums. And several teams, the Cubs included, have started their own regional sports networks, moving away from traditional broadcasting outlets (like WGN) to build more revenue.
Yet even though these new methods of broadcasting games will bring in more revenue in the short term, will they alienate more fans in the long run? As of this writing, the Marquee Sports Network is still not available to many Cubs fans, including Comcast subscribers. That issue aside, moving all the games to a cable sports channel by itself will leave many fans who don't have access to cable or internet-based TV out in the cold.
As far as radio broadcasts go, internet streaming of games again may bring in more revenue, but there are still many fans who don't have internet access who will now be unable to listen to A's games. If other teams follow suit, they will risk losing more fans in the future.
There's no indication that the Cubs plan to do this in the near future, but it could be the way that the industry is moving. And like the loss of the Cubs on WGN, that would be a shame. Radio is free and available to virtually anyone; I largely became a Cubs fan through listening to Pat Hughes and Ron Santo call games on WGN Radio.
When I was a kid, for many years, we didn't have cable TV. Growing up in southwest Michigan, I had to try to tune in 720 AM on the radio, and if I positioned it just right in my bedroom, I could hear the broadcasts. The convenience of being able to listen to games via the internet has been a great development in many ways, but again we're losing the traditional methods of following games. And that's to be lamented.
We'll see how well this new method of broadcasting games works in Oakland; if it brings in more revenue, other teams, including the Cubs, may do the same. Though in some ways it would signal progress in how the league brings the game to fans, in other ways this is a sad development. Hopefully, neither the A's nor other teams will lose many fans because of it.