Cubs Rumors: A Mookie Betts trade seems to be picking up steam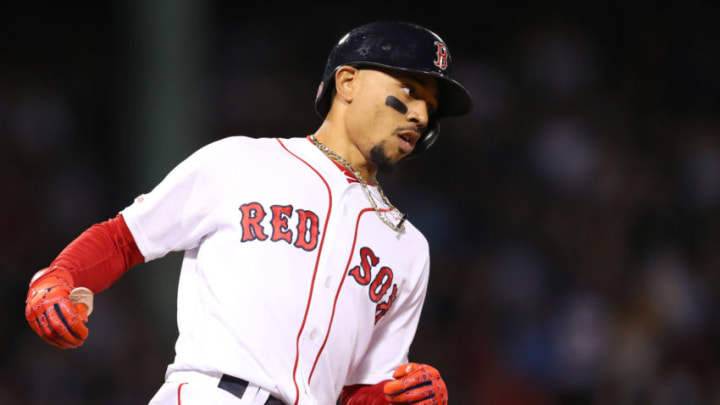 (Photo by Maddie Meyer/Getty Images) /
If the Boston Red Sox manage to trade Mookie Betts, there could be a trickle-down effect that could impact the Cubs and their hopes of trading Kris Bryant.
Still awaiting discipline from Major League Baseball, the Boston Red Sox remain focused on re-shaping their organization under first-year Chief Baseball Officer Chaim Bloom. The former Tampa Bay executive is looking to shed payroll, while revamping the team's farm system. One easy way to check both boxes? Trading former American League MVP Mookie Betts.
Now, you might wonder how this could impact the Chicago Cubs, given Boston plays in an entirely different league and there's literally no chance Theo Epstein is trying to add Betts via trade. But there are more connections than you might initially believe.
More from Cubbies Crib
Betts, 27, will hit free agency at year's end and is set to make a record $27 million in his final year of control – giving you an idea of what the Boston outfielder will have his eye on on the open market next winter. But that one year of control could potentially make acquiring Betts easier than someone like the Cubs' Kris Bryant.
Of course, we're not really sure what Bryant's contract situation is. We're less than a week from the start of February and Chicago is still awaiting the ruling on Bryant's five-year-old service time grievance. If he defied the odds and somehow won the case, he'd be set to join Betts in free agency next winter. But the general consensus is that the Cubs will come out on top, with control over their former Rookie of the Year and MVP through the 2021 campaign.
The latest reports out of Boston suggest at least two NL West clubs, the San Diego Padres and Los Angeles Dodgers, are in talks with the Red Sox regarding Betts. Nothing is imminent, but Alex Speier of the Boston Globe suggests the team is 'serious' about moving him in an effort to get under the $208 million competitive balance tax threshold and adding long-term pieces to the mix.
Obviously, a team like the Dodgers adding a player of Betts' caliber would make them even more of a favorite in the National League. Pairing him with the reigning NL MVP Cody Bellinger would give Los Angeles one of the most dangerous tandems in the league today. San Diego, of course, could take that next step with someone like Betts, but they're unproven to this point.
So back to the Cubs.
If Boston manages to trade Betts to one of these teams, the loser could, at least in theory, turn to the Cubs in talks for Bryant, especially if his service time grievance is resolved. To this point, the uncertainty surrounding his team control has handcuffed Theo Epstein and the front office.
Chicago and Boston are in similar situations heading into 2020. Both clubs failed to live up to expectations last season and seem focused on the luxury tax penalties more than adding impactful talent to their respective rosters. But their fates may be more intertwined than we've believed – especially given the recent Mookie Betts trade rumors.