Chicago Cubs: An early look at the team's outfield situation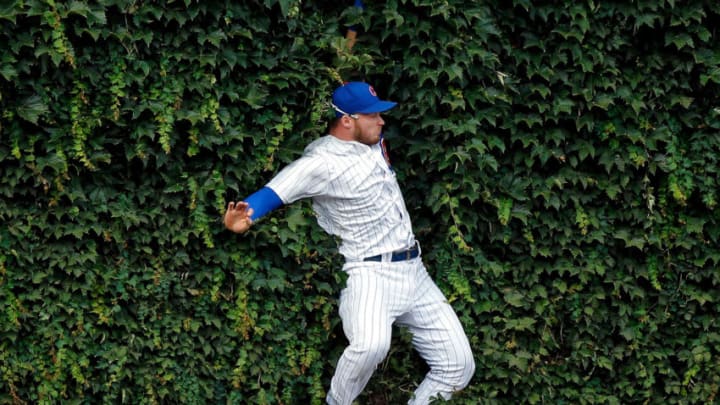 Ian Happ, Chicago Cubs (Photo by Jon Durr/Getty Images) /
(Photo by Quinn Harris/Getty Images) /
Chicago Cubs: Depth chart doesn't tell the whole story for the team
As of right now the 40-man roster on MLB.com lists four everyday outfielders in Jason Heyward, Kyle Schwarber, Ian Happ and Albert Almora. These are the guys who will be primarily/only playing beyond the infield diamond and are listed strictly as outfielders. Add Souza to this list as he has only played outfield in the majors. So that is five guys right there.
But that doesn't paint an accurate picture when you're looking at the club's depth. There are several other guys on the 40-man who can play in the outfield, despite it not being their primary position. That list includes Kris Bryant, Robel Garcia and, technically, Daniel Descalso since he has played some outfield in his career.
Lastly take in account those who signed minor league deals, non-roster invitees and guys in the system. This includes the likes of Hernan Perez and Mark Zagunis for the time being. While Zagunis is not on the 40-man he is still an option as he is still in the system.
(Photo by Jon Durr/Getty Images) /
Chicago Cubs: Only so many of these options will make the 25-man roster.
Looking at their current options you can sort out who will definitely be a big part of the MLB outfield (assuming no trades/injuries).
More from Cubbies Crib
In terms of full-time outfielders, Heyward and Schwarber are locks. Happ will most likely be on the roster unless he struggles again. We saw the improvements (granted a smaller sample size) after his minor league stint last season and there is still upside with him. Even Cubs president of baseball operations Theo Epstein hinted at Happ having a bigger role on the club in 2020. Souza is not necessarily a lock, but the intent with a MLB deal in place says the plan for him is to make the roster if all goes okay with his health/performance.
Bryant is the guy who if still on the Cubs come Opening Day who will not primarily be an outfielder but be an option. Descalso, who is up in the air right now, will probably not play much or any outfield if he does make the roster. Perez is also a question mark, but if he makes it he can play pretty much anywhere. Unless more moves are made, one of Descalso/Perez will probably make it.
One of the bigger questions is Almora. While a reliable glove his offensive woes will hurt his chances. Right now Happ is the number one centerfielder and Almora will not be used in the corners. He has a lot to prove this spring before being trusted with a spot. Guys like Garcia will probably be playing in the minors to start 2020 unless needed on emergency basis.