Chicago Cubs: David Ross feels this roster can win a World Series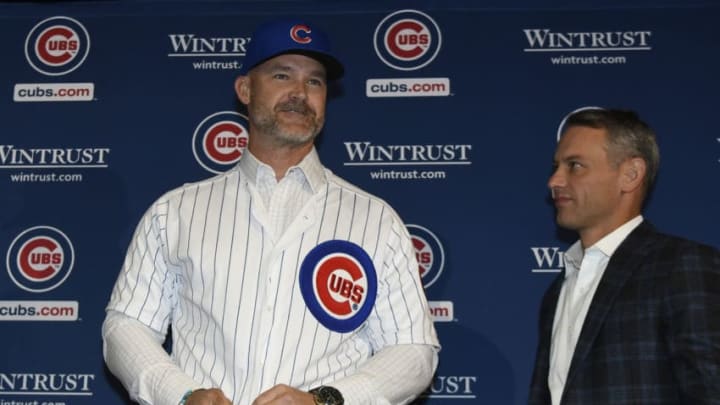 (Photo by David Banks/Getty Images) /
While most Chicago Cubs fans are very unhappy with how the team has operated of late, their new skipper doesn't quite share the same sentiment.
On the eve of the annual Cubs Convention, new Chicago manager David Ross spoke with reporters about the current state of the organization.
The highlights of the interview include Ross claiming that he expects Kris Bryant to be on the Opening Day roster and that fans should expect him as much. Ross also mentions that, unlike fans, he is excited about the fact the Cubs have not made any major changes to the roster, indicating that he thinks the current mix can win the World Series.
More from Cubbies Crib
This roster certainly can win the World Series, as they did it in 2016. However, they are all older and the league has made adjustments – and in many cases, has lapped the organization. With mostly the same roster in 2016, the team won only 84 games in 2019. Granted, Javier Baez got hurt for the last month of the season and Craig Kimbrel was not his normal self – but it was a disappointment nonetheless.
Other teams are getting better, too. Milwaukee and St. Louis have proved difficult in recent years and the Reds have been stealing headlines this offseason, as well. The Cubs have lost the division the past two years and there is no evidence that 2020 will be any better on paper.
Most of this is stuff you'd expect Ross to say as the manager, but that amount of optimism and confidence may be what the Cubs need internally going into 2020. Under Joe Maddon, who is undoubtedly the best manager in Cubs history, there was a bit of complacency after winning the World Series that seemed to increase every year.
Ross is right, his job is to manage the team he is given and that's all he will do. The results are out of his control, but the can do his best to instill confidence in the team and put players in the right position to win.
The argument can be made for the fact that these comments show that Ross is just a "yes man" for the front office, and perhaps some people will listen to that argument. Given what's coming out about the Houston Astros, perhaps it was the right move hiring Ross over the other finalist Joe Espada?
Who knows how involved Espada is in the scandal, but it seems pretty clear the whole thing is from the top down in the organization. Espada has only been with the Astros since 2018, but the cheating hasn't stopped since they won the World Series in 2017.
Ross will be a good manager, especially for this Cubs squad, but the results are pending. It's just nice to see some optimism from the Cubs as a quiet offseason nears its end.