Chicago Cubs: Watch out for fan apathy if team doesn't improve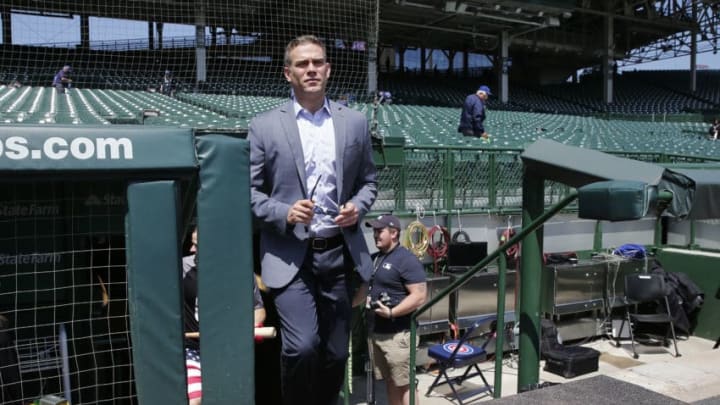 Photo by Nuccio DiNuzzo/Getty Images) /
For the second offseason in a row, it seems as if the Chicago Cubs don't plan on making any major improvements to their roster, but may subtract instead.
With the talks of Kris Bryant and Willson Contreras being available for trade, and the possibility of a trade being very real, the Cubs' brass can only pretend they are serious competitors for so long.
The possibility of fielding virtually the same exact roster in 2020 exists and Theo Epstein mentioned as much, saying the "status quo is not a bad option," even though that may be the worst possible option out there.
The Cubs won 84 games last year and are on the verge of losing Nick Castellanos and quite possibly one of Bryant or Contreras. That doesn't exactly make a good recipe for improving the next year. Now with Anthony Rendon agreeing to a big contract with the Angels, the Nationals may now become an even bigger suitor for Bryant than they were before.
More from Chicago Cubs News
The Cubs are running out of time on free agents as it is. Gerrit Cole signed with the Yankees, Zack Wheeler joined the Phillies and lower-tier pitchers such as Kevin Gausman and Kyle Gibson have also found new homes. Options for the Cubs to even improve their team marginally through free agency are dwindling fast. Weirdly, a trade of a superstar player may be the only way to improve the team for 2020.
Quite frankly, the way the Cubs are operating right now is unfair to the fans. Not only that, it's setting up new manager David Ross to fail by not giving him the proper players needed to compete in the right spots.
It's not like the Ricketts family is all of the sudden poor; after all, they just sold their company for $28 billion. The money is there, but for some reason they have cut off funding to Theo Epstein and Jed Hoyer the last two seasons.
Part of this may be the fact that the last few signings haven't really worked out, ala Jason Heyward and Tyler Chatwood. However, that shouldn't mean they have no right to sign anybody else. Rendon would have made sense as a suitable Bryant replacement, but that theoretical safety net is now gone, joining Joe Maddon out west.
If fans start to disappear from games as the 2020 season went on, nobody should be surprised. The front office has done this to themselves by resting on their laurels after winning the World Series three years ago. Quite frankly, if the people in charge of the team don't care, then why should the fans?