Chicago Cubs: Trading Jason Heyward is more trouble than it's worth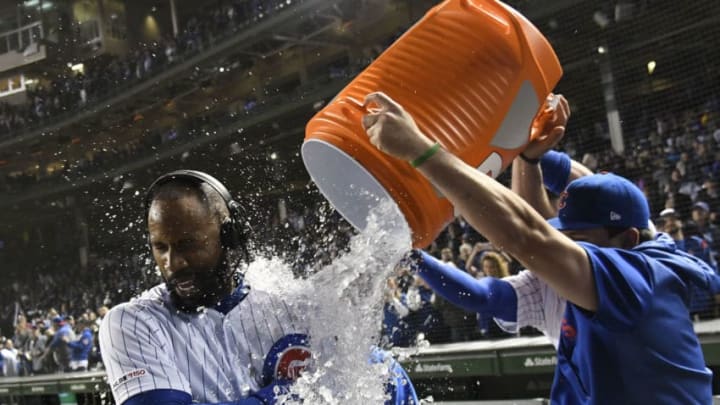 (Photo by David Banks/Getty Images) /
The Chicago Cubs are likely to run into payroll issues again this offseason unless they can make some moves to offload contracts, but is trading someone like Jason Heyward more trouble than it's worth?
It has long been a common point of speculation for Chicago Cubs fans to determine a suitable trade for Jason Heyward. Heyward, despite his memorable rain delay speech, has yet to live up to the massive contract awarded to him by the team in 2016.
The problem with trading someone like Heyward, however, comes in finding a creative way to move an albatross contract. Farhan Zaidi of the Giants managed to do so with Mark Melancon's contract during the 2019 trade deadline, but could the Cubs move Heyward in a way that's actually worthwhile?
More from Cubbies Crib
Heyward is in the last four years of an eight-year, $184 million contract, meaning whatever team that would take him on would also take on a significant increase in salary. While Heyward has been an excellent defender in right, winning two Gold Gloves thus far as a Cub, his offensive production has been below league average every year he has been with the team.
The main reason the Giants were able to move Melancon is because they identified another team in need of a solid reliever and capitalized on the opportunity. For Heyward, who, at best, plays as an above average defensive replacement, won't exactly have a lot of takers even if demand is high.
He clearly lacks a major upside for a lot of teams, meaning he'd likely have to be paired with another piece in order to be moved. Writer Joel Sherman proposed a trade on MLB Network's Hot Stove that, while preposterous, reflects the idea that the Cubs can't move Heyward on his own for a good return.
The problem with this is that it might be a deal breaker for other contending teams potentially interested in other trade chips like Kris Bryant and Willson Contreras. A team like the Dodgers who may be interested in Bryant certainly wouldn't want to also take on Heyward's massive contract.
If anything, the team would probably look more to dump his salary, but finding a fit there isn't so simple either. It would involve little to no return (or eating some of his contract) and likely require another piece as well, so the Cubs would need to find a suitable replacement somewhere else or via another trade. There's also a certain leadership element that Heyward provides that would be lost in his absence.
Dumping Heyward would give the team a reason to go after beloved short-time Cub Nicholas Castellanos, but the drop-off in defense would certainly be noticeable. Even with re-signing Castellanos, moving Heyward puts pressure on the team to push hard in free agency, something not easy to guarantee with the amount of teams looking for high-end upgrades.
Dropping Heyward would give the team a ton more flexibility this offseason, but don't expect any sort of big return for him if he was traded. Realistically, between finding a replacement and guaranteeing a splash in free agency, trading Heyward may create more pressure and more trouble for the Chicago Cubs than it could possibly be worth.